Abstract Expressionism of Khalil Ibrahim
There is something sublime, ethereal and yes, perhaps, even a little spiritual about the Expressionistic abstract works created by that master Malaysian artist – Khalil Ibrahim.
Ever since his art apprenticeship in 1960s England (at St.Martin's School of Art, central London) meeting Malaysian abstract/expressionist artist Ibrahim Hussein (known for Gardu – 1968 and My Father the Astronaut – 1970) and, later, meeting with Malaysian Expressionist painter/poet Latiff Mohidin (famous for his Pago Pago series) – there had been a distinctly abstract undercurrent to many of Khalil Ibrahim's works.
There seems little doubt that studying at an English art school, learning fresh ways of seeing, coupled with having contact with artists discovering new approaches to their art and lives, changed the way Khalil approached his own artistic works.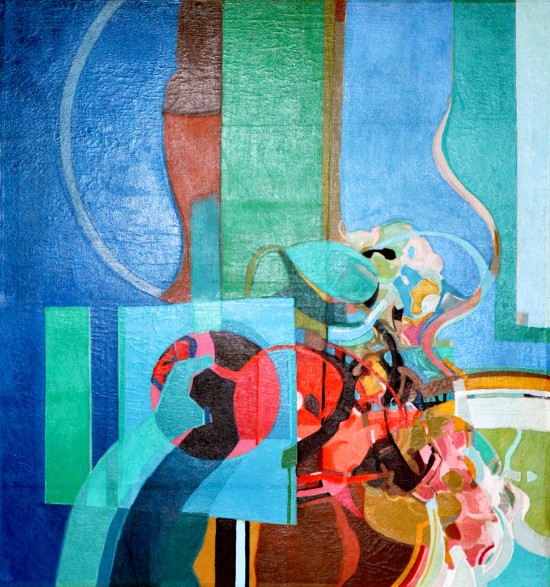 Destruction I
In art school, in London, the student Khalil began experimenting with abstract forms in works such as Judith in Still Life and Abstract Queens Gardens Bayswater, drawn into his sketch book and demonstrating the artist's attempts at bringing portraiture and concepts of abstraction together.  Later he painted Destruction and Destruction II (1960-1965) which bear the hallmarks of European Expressionism and experimentation with organic and inorganic forms, as well as uses of contrasting colouration.
Inevitably, at art school, students are encouraged to try different mediums.  Khalil produced Geese (1965) – a delectable figurative work, in gouache, bordering on abstraction, while another of his gouache-on-paper works – Figurative Study (1965), sees the artist leaning towards the abstractions and influences of Expressionism, both in the movement of the subject and in its colour style while leaning towards elements of cubism or perhaps Italian Futurism in the figurative 'movement' of both pieces.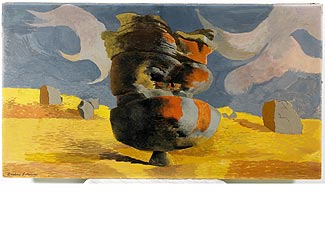 Sutherland
There is little doubt that Khalil was exposed to British art during his sojourn in London, and was perhaps even influenced by artists such as Graham Sutherland, Michael Ayrton, John and/or Paul Nash, particularly for works such as Destruction I and II.  The artists mentioned were well known in British artistic circles at the time Khalil was in London and their works popular, and accessible.
David Hockney, Britain's best loved modern painter, frequently visited St. Martin's while Khalil was there, giving lectures, while Eduardo Paolozzi, who studied at St. Martin's (in 1944), was producing abstract Pop influenced screen prints at the time of Khalil's studentship in London.
Abstract I
Whatever those influences were, they appear to become more prominent in Abstract I (1968) – a natural progression from Destruction I and II and demonstrating an interest in organic abstraction, similar to those expressed by the British artists already mentioned.
In London, Khalil's art works were still in flux as he sought styles and methods which spoke of his own unique journey.  Temporarily abstraction was abandoned while he painted Self Portrait (1965), in acrylics, though it would be hard to deny the influences of Picasso's Classicism in this picture.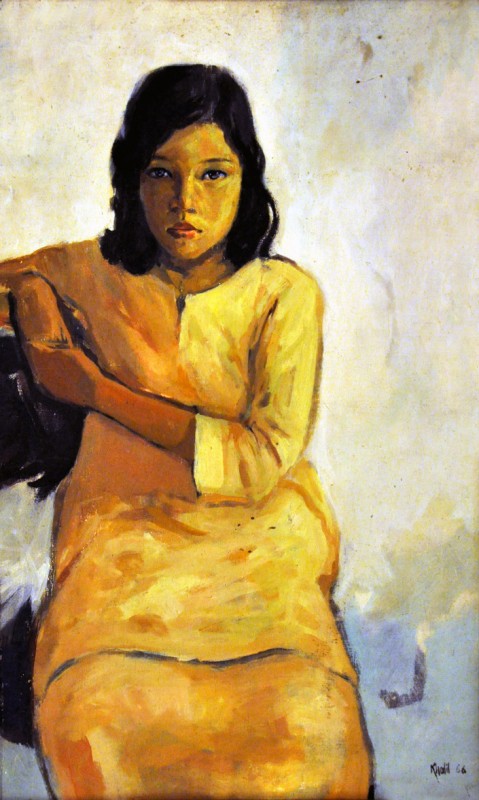 Temerloh Girl
One year further on (1966), and Khalil was still seeking an artistic 'voice' as he painted Temerloh Girl (1966), which is a stunningly beautiful study, reminiscent of the Post-Impressionist works of Paul Gauguin.  This work is an acrylic, on board, which has all the feel of Gauguin's 'warm' oil paintings from the South Seas – Tehamana Has Many Ancestors(1893) perhaps or Girl with Fan (1902).  It is another early indication of Khalil's fascination with colour and Post- Impressionist, if not Expressionistic abstraction.  Khalil's Temerloh Girlis also reminiscent of Malaysia's Mazli Mat Som's Yati (pastel – 1963).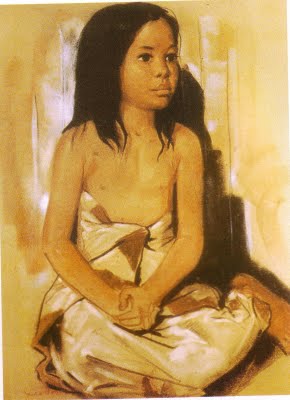 Yati
A few years later (1970) there is an interesting (untitled) colour pencil on paper drawing which demonstrates Khalil's leanings towards Expressionism and/or the German Blue Rider group (Der Blaue Reiter).  The drawing is untitled, but the intriguing use of primary colours suggests Khalil's fascination not only with form, but also with colour too.
In the pages of Khalil's 1970s sketchbook we see, for the very first time, abstract images which occur and reoccur throughout the next three decades of Khalil's painting– the brief watercolour sketches (Abstract Figures) which eventually form the basis of works like Abstract 11 (1996), Velocity IV (2003) and Figurative Celebration 1(2004), which was seen in the Islamic Arts Museum Malaysia's Merdeka 50 book, A Celebration of Malaysian Art.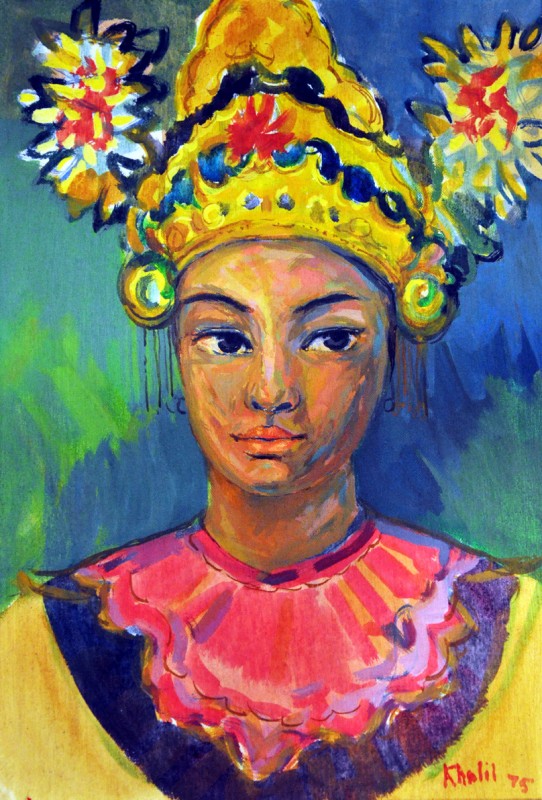 Portrait of a Balinese Lady
Khalil's absorption in Expressionism is finally revealed with his painting Portrait of a Balinese Lady (1975) – and the influences of painterly styles like Van Gogh's self evident. Five years later, in his 1980s sketch book, Khalil took great pains to copy a paragraph, concerning Expressionism, from an art book, while he was in Switzerland – such was his love for and fascination with the subject.
Expressionism
The search for expressiveness of style by means of exaggerations and distortion of line and colour: a deliberate abandon of naturalism implicit in Impressionism in favour of simplified style which should …..far greater emotional impact, in this sense of emotional force expressionism is feature of non-Mediterranean art in general.  In the more limited context of modern art Expressionist movement may be said to spring from Van Gogh's use of drastically simplified art line and very strong colour
The road to abstraction is frequently a long one, and Khalil's interest in painterly abstraction surfaces in other ways throughout his artistic career.  This becomes evident in such works as the airbrushed oil painting Airbrush Abstract (1981) – essentially oil on canvas with a red background over-sprayed with blue, with small red bands at the top and a lighter blue band at the base.  Further abstractions include Refections IV (1981) and Shadow XX11 – painted in acrylic (1981).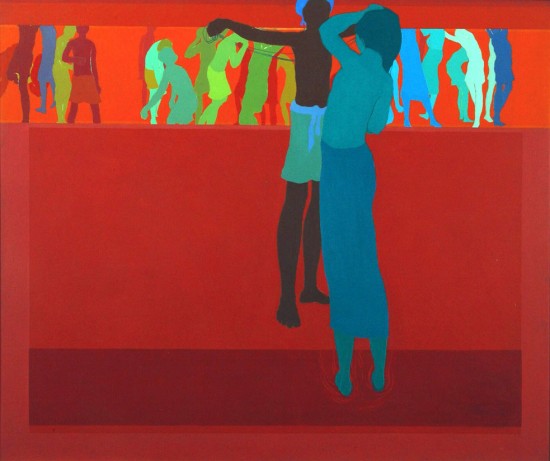 Shadow XXII
Shadow XXII is an early East Coast painting, using starkly saronged figures in silhouetted colour against a predominantly red background.  Variously coloured figures appear in a strip of lighter red near the top of the painting, rendering a more graphic feel to the painting over all.  It is a distinctive work, clear and crisp in its execution.
Over the length of his artistic career, Khalil's abstractions were somewhat overshadowed by his other, more naturalistic works until, that is, he moves towards the 2000s.  That is when Khalil began producing such intriguing paintings such as – Abstract II (oil -1996), East Coast Series VI (acrylic – 1998) and Bayang-Bayang 1 (2002).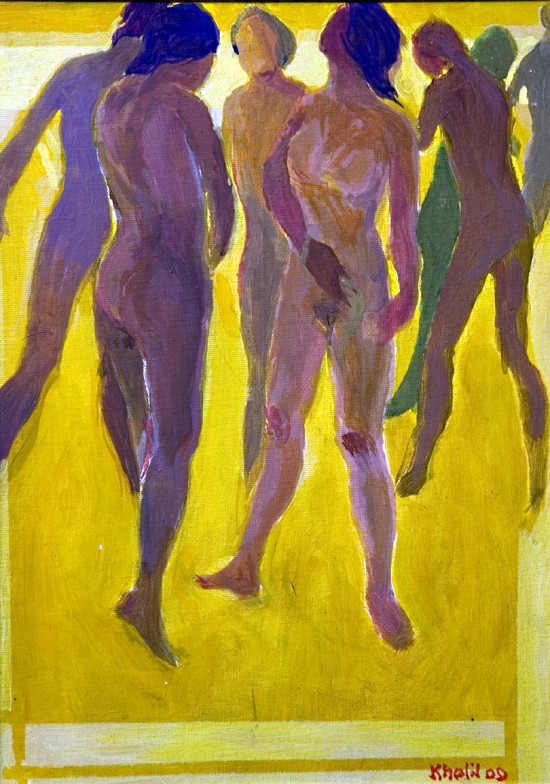 Bayang-Bayang II
In some respects Bayang-Bayang II looks back to Shadow XXII – there is a familiar 'bar' of colour towards the top of the canvas and the figures in Bayang-Bayang 1I may be seen to be silhouettes similar to those in Shadow XXII, though the former work has a more painterly style, less stark.
Pembicaraan III (2002), Velocity IV (2003), Tangtu (2003) Pura (2003) Padang Galak (2004), Pabean (2004) and the ink on paper set of images from Bali, Indonesia, entitled The Spirit of the East Coast and Sanur (2003-2004) continue this trend.
There is a continuance of the East Coast series, not only in watercolour but also in acrylics and others in oils.  Paintings such as Malam di Pantai (acrylic – 2007) are semi-abstracts inspired by life on the East Coast of Malaysia.  Pantai Melawati (acrylic – 2004) also highlights Khalil's tendency towards abstraction while the Pericaraan series (2002) – watercolours and acrylics, and the Vivacity series (2004) – acrylics.  These take Khalil's movement towards abstraction one step further, leaning in the direction of a purer form of abstraction and more in keeping with the artist's previous penchant for Expressionism and Expressionistic abstraction.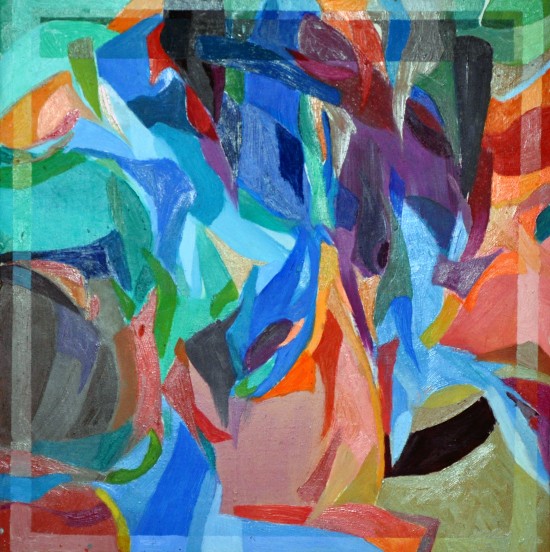 Perbicaraan VI
It is, perhaps, the Vivacity and Pericaraan series where Khalil Ibrahim has been heading all along, ever since his sojourn in the London art school.  In both of these series the artist's fondness for Expressionism shines through like a beacon of light radiating colour and movement onto his watercolours and canvases.
It is in paying homage to the likes of Van Gogh, Emil Nolde (The Dance round the Golden Calf – 1910), Franz Marc (Struggling Forms – 1914) and Max Pechstein (Evening in the Dunes – 1911) that the artist Khalil Ibrahim seems happiest, engaging with the colours and forms found on the East Coast of Malaysia and rendering his own vibrant Malaysian Expressionist/abstract style to engage the viewer.
~
Yusuf Martin (b. London, 1951) is a writer, reviewer, digital artist, exhibition curator gaining his MA Art History & Theory and MA Gallery Studies at the University of Essex. He wrote for Off The Edge and numerous other magazines and newspapers, held exhibitions in opera houses and galleries, in England, as well as working with the National Art Library, Victoria & Albert Museum, London, on many projects. He also writes short stories for publication and was recently invited as guest writer to the Singapore literary festival – Lit Up. He blogs at http://correspondences-martin.blogspot.com/
---