Interpreters of Dreams
Interpreters of dreams may be able to shed light on why it is that some people and places, or even a particular atmosphere/feeling one may have met for the first time and only briefly, recur in dreams as compared to the more everyday environment, relations and situations. I returned from Yangon and even as I settled down to my daily routine, my nights filled with busy dreams continued to be occupied by compressed visions of Yangon.
Not specific, nor dramatic, somewhat commonplace, recreated were a mix of busy and calm moments – simple incidents of us, the group of artists, sitting at a café or street corner drinking tea or me walking along a street. I am not even sure if that street can be specifically located in Yangon, but in my waking moments there was no doubt – I was still traversing territory there, both in my thoughts during the course of a day and in the form of sleep-time dreamscapes.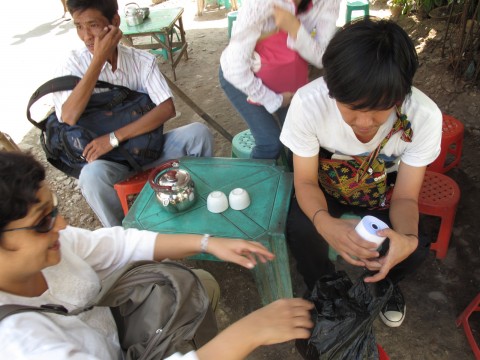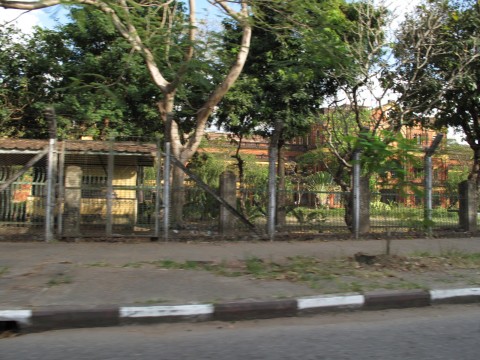 My first visit and the place is nothing like what I had imagined. I don't think I had even imagined it to be any one thing in particular but certainly, I was not prepared for how familiar aspects of it would feel especially in terms of triggering memory and making connections to my growing up in India. There is our shared colonial history (In colonial times, Burma was parceled together with India by the British as part of their Raj) and remnants of it, particularly still evident in the architecture and general feel of the city, started to evoke places of my childhood – the sleepy town that Baroda where I grew up was in the 60s or parts of Bombay today albeit without the crush of human and other teeming traffic.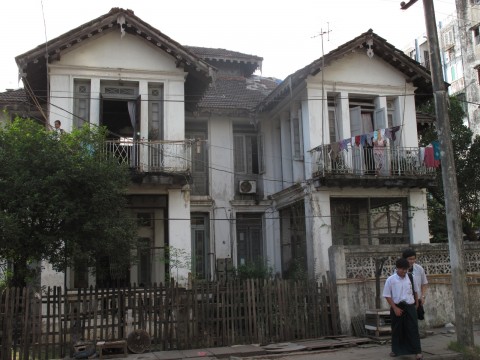 But unlike the demanding environments of today of the above-mentioned cities, and of Bangkok where I live, Yangon with its crumbling structures of the past empire and rash neglect (accept of the chosen elite) by the current powers, presents a defiantly graceful almost stately face and pace. However, a reminder of the turbulent reality of the situation lies close to the surface and aspects of it can be encountered should one scratch. It is a complex and challenging setting – strict authorities and the extremely hospitable people they rule over, many a 'no go' area and yet possibilities allowing for unexpected discoveries. For visitors and more so for the citizens, this requires careful negotiation so that one may reach beyond for a measure of normality in one's day-to-day life.
Beyond pressure.
Pressure is part and parcel of life. It manifests and is characteristically dealt with in various ways. It is also destructive, in that it can totally occupy ones way of being or become a fixation – turning it into a preoccupation. Compulsive use of such pressure is one tactic applied to debilitate, isolate and demobilize by those attempting to gain and keep absolute power, a power that they perhaps see as enabling the fulfillment of a dream – that of living the "easy life of the gods"* in their lifetime.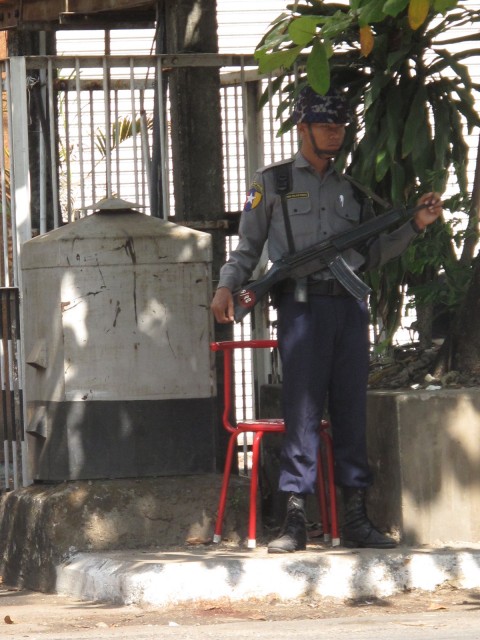 But, unlike the gods, to be alive is to feel things, pressures included, and having done so, to find a way to deal with the feelings. For artists performance art offers the opportunity to do so directly and in the live, in which this pressure can be turned into a powerful creative force to not only speak about but also to utilize it to make visible things that are pushed under the surface.
I did not have a chance to discus with Moe Satt, his decision to step into performance art but perhaps this is one factor that brought him out of the field of zoology and into the arena of performance, to engage in the 'liveness' of performance art and make use of the body to freely express different aspects emerging out of his immediate environment and situation, and in doing so talk of the overall human condition.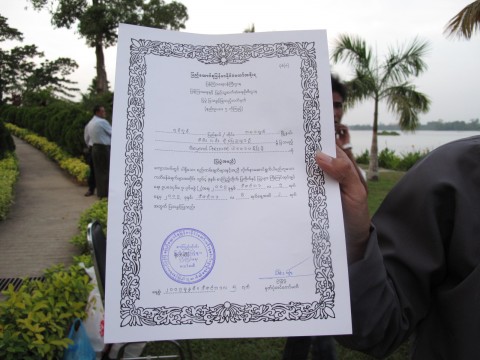 From my own experience to engage in this way, both for the artists and public, means to open up to the unexpected, thought-provoking and at times highly immersive encounters that not only test many a preconceived notion but also compel all present towards fresh ways of thinking and perceiving, and start to reach beyond the set margins. This going 'beyond pressure' is to address and take in hand aspects of life itself, directly engage with people and situations that impact our lives, and invite artists from diverse backgrounds and situations to talk about that which is part of our reality.
* "The human condition is such that pain and effort are not just symptoms which can  be removed without changing life itself; they are the modes in which life itself,  together with the necessity to which it is bound, makes itself felt. For mortals, the  "easy life of the gods" would be a lifeless life." –  Hanna Arendt
In the seven days I spent there as a participant in the Performance Festival and a first time visitor to Myanmar, I found myself grappling with feelings of intense familiarity and simultaneously struggling as a stranger with the present realities of the place, aspects of which continue to deeply occupy my mind.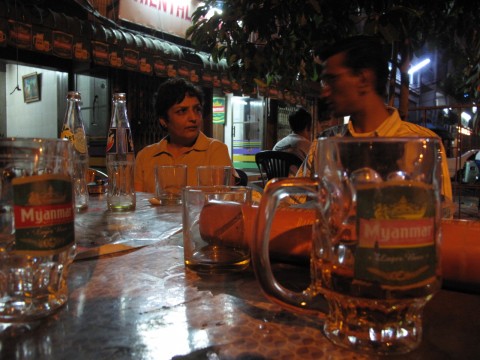 Post 2nd Beyond Pressure and as this decade comes to an end, here are some of my ruminations. This was a decade that saw yet another attempt to change things, and in which the first Beyond Pressure Festival treaded a careful path to gain a foothold and start to play a role in establishing more interaction with people in general. By now presenting in a public park, with "official permission" in hand, and out of the controlled environment of a gallery or art space, this is a true attempt to reach beyond.
~ The short debate around what is "real" and what is "unreal" with the officials… do they think of it?
~ Which was better – the performance for the officials of the censorship bureau or the  one on the designated day in the park?
~ Explaining a performance to officials – a direction to develop new work that is only about explaining a performance to officials.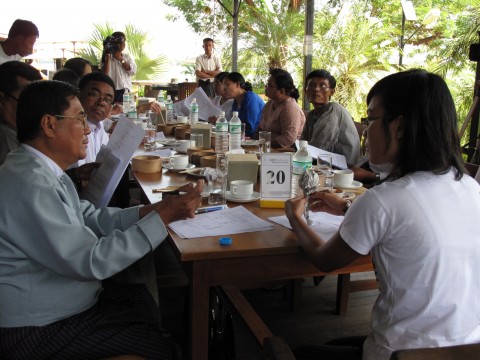 ~ Table 20 – what happened to all that left over dimsum?
~ A mental picture of participants walking in line down the staircase and out on to the street, standing in line, pointing to the sun… a short march, unrealized.
~ Conference Room 101 at YMCA for our workshops and symposium was an uncanny co-incidence..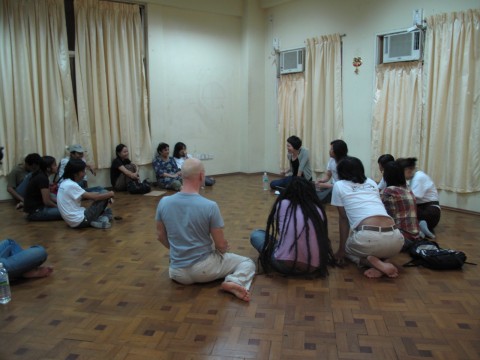 ~ Tea time in the café, conversations, looking over the shoulder
~ The little boy playing with a traditional doll…
~ Displacement – the switch-technique – King Thibaw of Burma exiled by the British in Ratnagiri, India in 1858 and Bahadur Shah II, one of the last Mogul Emperors of India exiled in Rangoon in the same year.
~ Stepping into the lake, the boat slowly filling with water, Zhou Bin holding a pierced heart gazes across the lake.
~ Translation of a saying regarding bonsai from a Japanese scroll of the Kamakura period: "To appreciate and find pleasure in curiously curved potted trees is to love deformity".
~ Committing many thoughtcrimes…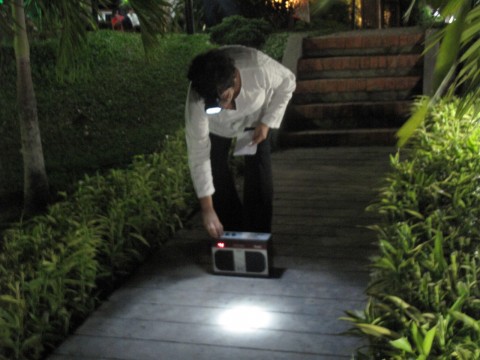 ~ Guarded at the hotel 24 hours by 3 military policemen…. "for our safety…"
~ Offering sweets to the M policemen, the sternest says no but then grabs a handful.
~ More M police interaction – 2 holding red wool balls – Chakrit's intervention….
~ Laughter is a yoga exercise that is practiced (members of a famous laughter club practice daily in a park in Bombay) to help alleviate stress. Moe Satt's and Mrat's performances in the park – smile! Ha, ha, ha…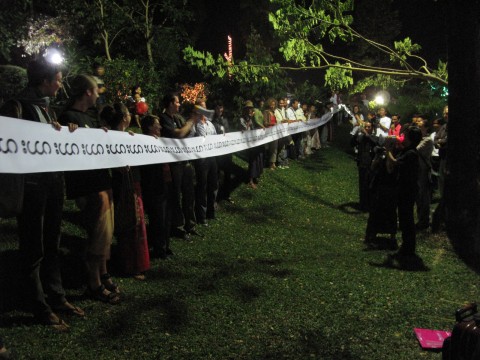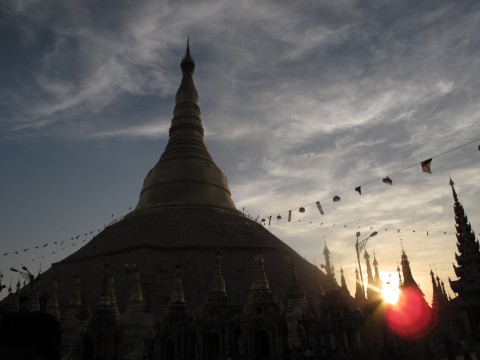 ~ To quote Hanna Arendt again, "The point, as Marx saw it, is that dreams never come true."
23 December 2009
Bangkok.
~
Varsha Nair was born in 1957, Kampala, Uganda. She studied at Faculty of Fine Arts, Maharaja Sayaji Rao University, Baroda, India. She has exhibited her solo and collaborative works internationally and in Thailand, where she has lived since 1995. Her selected shows include September Watch, Conference of Birds Gallery Bangkok, 2009; Still Moving Image, Devi Art Foundation, New Delhi, 2008; Proper Place, Ryllega Gallery, Hanoi, 2007; Exquisite Crisis & Encounters, New York, 2007; Sub-Contingent: The Indian Subcontinent in Contemporary Art, Fondazion Sandretto Re Rebaudengo, Turin, 2006; In-between places, Si-Am Art Space, Bangkok, 2005; Video as Urban Condition, Austrian Culture Forum, London, 2004; With(in), Art In General, New York, 2002; Home/Dom, Collegium Artisticum, Sarajevo, Bosnia Herzegovina, 2002; Free Parking, Art Center, Chulalongkorn University, Bangkok, 2002.
She presented performances at OPEN 10, Beijing, 2009; Performance Saga, Basel, in collaboration with Lena Eriksson (2009); at Khoj Live, New Delhi (2008); Tate Modern, London, in collaboration with Tejal Shah (2006); On the Move, Hong Kong (2008); National Review of Live Art, Glasgow in 2006 and 2004; and at National Review of Live Art Midland, Perth, 2005. Nair is editorial board member of the web art journal Ctrl+P and co organizer of Womanifesto in Thailand.
~
2nd Beyond Pressure International Performance Art Festival was held from 2 – 6 Dec 2009 in Yangon, Myanmar. It was a historic event that had profound impact on all who took part. 9 international artists, including myself and fellow Malaysian Rahmat Haron, participated.
For a Beyond Pressure special on ARTERI, the organizers and artists have kindly allowed me to publish their artist reports, originally written for the festival publication which is coming out shortly. I have selected a few to express different perspectives and experiences. All images were taken by myself during my time there.
Read Joseph Ravens 'Feeling Useful for the First Time' here.
You can also read about the first Beyond Pressure here and here. Visit the official website here.
(SC)
---
This article was first posted on the original Arteri site on 5 January 2010.