Penang Art: Chance, renewal and sustenance
AFTER four years in Penang, Pahang-born Liew Choong Ching decided to move back to Kuala Lumpur in August this year. The move coincided with his seventh solo exhibition.
At a time of economic turmoil, an impressive array of red dots denoting bookings of his works seems to validate his return to a marketplace where most of the big players are and where the real action is.
"I love Penang for the easy-going life and environment but KL is where it's at, where there are much better opportunities," says Liew, 35, who, however, has a solo date at Mutiara Art Gallery in Penang in September 2010.
Liew is a "catch" that Penang, dubbed the cradle of Malaysian art for having the most number of pioneer artists, cannot afford to lose if it is to have regeneration and retain some semblance of its prestige.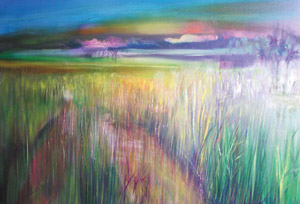 Padi Fields by Dr Chew Teng Beng
Most newer-generation Penang-borns, from Wong Hoy Cheong (born 1960) to Yeoh Kian Thai (1966), Teoh Joo Ngee (1970), Pheh It Hao (1972) and Multhalib Musa (1976), have migrated to KL, made their name and settled down there. Wong is more correctly called a vagabond world-citizen though.
Lynn (short for Rosalynn) Teoh (born 1955), a Chinese brush exponent of considerable years, relocated back to Penang a few years ago, to the Vale of Tempe in Tanjung Bungah. But she still spends a few days a week in KL, giving art tuition.
Of the few "young" vanguards, Chan Kok Hooi (1974), arguably the most outstanding, expands his horizons through awards of art residencies – Penang's Malihom (twice), Red Gate (China), Vermont Studio (United States) and just last month, in Scotland under the prestigious Royal Overseas League Award. His is Art of the Absurd comprising a strange menagerie of animation icons, automobile bovines and MSN Messenger caricatures.
Australia-trained architect water-colourist Khoo Cheang Jin (1963) is another home-grown talent. And then there are architect Ch'ng Kiah Kiean (1974), and the up-and-coming Alfred Yeoh (1975), the co-founder with Jeff Jansen, also an artist, of the a2 Gallery in Bangkok Lane.
Most Penang artists, whether born on the island or settled from elsewhere, are hitting their golden years of 60 and above.
Take this random sampling: Wong Siew Inn (1924), Tan Choon Ghee (1930), Tay Mo-Leong (1938), Dr Chew Teng Beng (Terengganu-born, 1938), Latiff Mohidin (Negri Sembilan-born, 1938, but officially listed as 1941), Datuk Chuah Kooi Yong (1938), Tan Lye Hoe (1938), Khoo Sui-hoe (Kedah-born, 1939), Dr Lim Eng Hooi (1939), Ismail Hashim (1940), Chong Hon Fatt (1941), Datuk Tang Hon Yin (1943), Toya @ Lim Khoon Hock (1943), Yong Cheng Wah (1943), Chuah Siew Teng (1944), Eric Quah (Taiping-born, 1946), Koay Soo Kau (1946), Lim Chee Boon (1946) and Yeang Seak Ling (Ipoh-born, 1948).
Datuk Chuah Thean Teng, popularly known as Teng and the only Malaysian artist to be world-acknowledged to have founded an art genre – batik painting – died in November last year at the age of 96.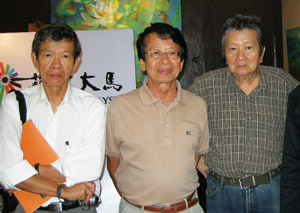 Picture taken at Simon Tan Gallery at Armenian Street last year. From left: Chew Kiat Lim (who has gone back to Toronto, Canada), Dr Chew Teng Beng (who devides his time between New York and Penang), and the reclusive 'Batik Seurat' Toya, who made a rare public apprearance.
Dr Chew Teng Beng and Khoo Sui-hoe are "indigenised" Penangites. The former made Penang his base after he set up the Fine Arts programme in Universiti Sains Malaysia with the assistance of Dr Lim Eng Hooi when he returned from the United States. Sui-hoe transformed the Ching Lotus Space in China Street in November 2004 into Alpha Utara Gallery, reviving somewhat the Alpha Gallery he had set up in Singapore in the 1970s. The gallery, which (only recently) has become less active because of personnel problems, was not only given to art exhibitions but also musical recitals, performances, book launches and an informal art dialogue in 2005.
The highly versatile artist and former academician Dr Chew divides his time between New York and Penang. So does Sui-hoe, who is based in Little Rock, Arkansas, after spending most of his last 27 years of America life in Texas.
Eric Quah grew up in Penang after his parents relocated to the island from Taiping in 1948. In August 2003, after spending 30 years in Melbourne, Australia, he decided to return lock-stock-and-barrel, and chose Penang as his new home.
"I started returning regularly to Malaysia in 1992 after I became a full-time artist," says Quah, a master collagist who was part of the Australian cult, Young Originals, who were active from the late 1970s until the early 1990s and who had had significant stints in the United States and China.
As he got older, he opted for the warmer Malaysian weather and to be in the bosom of his friends and family. All his siblings now live within walking distance of his Reservoir Gardens residence and (separate) workshop-studio. It is an ideal arrangement that gives this 63-year-old the freedom to move around Asia and Australia.
Since his official return, Quah has mounted solos at Alpha Utara in Penang (2006), in Nanjing and Beijing in China (This is the Moment, 2006), and at The Gallery @ Starhill (Sawah Padi, 2007). Tellingly, the China and KL shows were hugely successful. The Penang State Art Gallery (PSAG) will honour him with a Retrospective in 2011.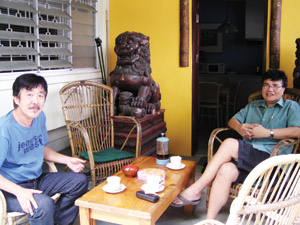 Kulim-based Heng Eow Lin (left) visiting Eric Quah at his Reservoir Gardens home
Then, there are transients like Chew Kiat Lim, Dr Chew Teng Beng's brother, known for huge commercial and theatrical set designs in his Toronto base in Canada. Kiat Lim, who won the Malaysian award at the Philip Morris Asean Art Awards and competed in the finals in Bangkok in 1996, took six months off last year to rent studio space in Penang to do visual research and paint.
The Penang art market can be summed up as a case of too many artists and too few collectors or purchasers. Yet life goes on, mainly because the artists have collectors not only in Kuala Lumpur and Kedah but also Singapore, Hong Kong and China.
"I only sell my works in Singapore nowadays," confides the reclusive Lim Khoon Hock, the Malaysian 'Batik Seurat' better known as Toya, when met at two exhibition openings last year.
Chong Hon Fatt has made China a happy hunting ground for his plein-air architectural paintings. He was even commissioned to do a series of paintings on the Diaolou (fortified tower houses) of Kaiping, Taishan, Enping, Xinhui and Heshan in China from 2006–2007. This culminated in a commemorative book and a television documentary.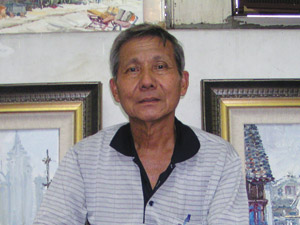 Chong Hon Fatt at his former residence cum studio in Beach Street.
Works by Penang's legendary water colourist Tan Choon Ghee are now making good returns in the secondary market as the artist, suffering failing eyesight, hardly paints any more.
Poet-painter-sculptor Latiff Mohidin keeps away from activities in Penang, surfacing only every two to three years in a major exhibition of new works in KL, notably at Galeri Petronas.
Penang may boast more than 20 art galleries but there are only very few active ones. Most of the rest are struggling to make ends meet.
This is especially so as no new industries, big corporations or major tourism products have been established in Penang in the last two dozen years. With the supportive expatriate collectors missing, much depends on a small pool of local collectors, notably Datuk Dr Tan Chee Khuan and Dr Tan Chong Guan, and more recently the lawyer Lee Khai. 'Pioneer' collectors like Datuk Lim Chong Keat and Datuk P.G. Lim (long based in KL) have stopped augmenting their collections. On the contrary, they are disposing of most of their pieces.
Another major collector, but from neighbouring Kedah, is the industrialist Tai Keik Hock, the 72-year-old owner of the four-storey Dai-ichi Modern Art Gallery in Sungai Petani. While Alpha Utara is essentially the home of Khoo Sui-hoe's works, it has run a gamut of exhibitions even for Thai, Singaporean and Indonesian artist friends. His gallery has also shown Kedah artists Heng Eow Lin, Chong Hip Seng and Anuar Rashid. Other Kedah artists such as Cheung Pooi Yip, Looi Hooi Nam, Ung Mooi Leng and Fong Kim Seng also meet occasionally at Tai's house, or nip over to Penang or KL, for camaraderie and to attend exhibition openings.
Alpha Utara Gallery officially celebrated its opening in May 2005 with a show featuring Sui-hoe, Datuk Tang Hon Yin, Eric Quah, the London-based James Sum and Chong Hip Seng. It was manned by Alfred Yeoh until he decided to set up a2 Gallery.
The market is always uncertain but the Mutiara Art Gallery, under artist-manager Koay Soo Kau, still runs a hectic schedule of exhibitions, even for virtual nonentities and emerging artists. Upstairs, there are the more investment-linked works of major artists like Yong Mun Sen (1896–1962), Lee Cheng Yong (1913–1979), Chia Yu-chian (1936–1991) and even China/Taiwan's Shao Fei, from the impressive collection of Dr Tan Chong Guan.
The Yahong Art Gallery in Batu Ferringhi, run by Chuah Thean Teng's three artist sons – Siew Teng, Seow Keng and Siew Kek – also showcases their works and a permanent collection of Teng's masterpieces. It also deals with Asian handicrafts and souvenirs in a thriving tourist belt, so the need to sell original artworks is not pressing.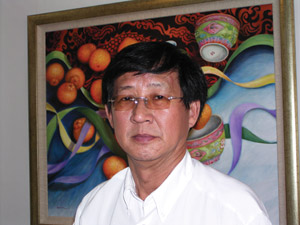 Koay Soo Kau at his Mutiara Art Gallery
Datuk Dr Tan Chee Kuan, known for his seminal writings on Malaysian art pioneers, is still a major player. Despite having donated a largesse of works to the Penang State Art Gallery, he still has a sizeable collection of works by pioneer artists from Malaysia and masters from Singapore and Indonesia. He and his late wife, Siau Bian, ran an active programme at The Art Gallery in Penang from 1989 until August 2002. His new wife, Datin Ivy Lee, an international realestate consultant, looks like she is starting her own collection. Dr Tan's son Chien-li, a lawyer, collects mainly Jolly Koh.
Apart from commercial art galleries, there are scant alternative spaces. The opening of the USM/ABNAmro Arts and Cultural Centre in Beach Street in collaboration with Universiti Sains Malaysia (USM) was a boost, but it lasted only from 2002 to December 2006. USM's own Muzium & Galeri Tuanku Fauziah (MGTF), under Hasnul J. Saidon, is at the forefront of art promotion, organising several cultural, scientific and interactive programmes in recent years.
In September this year, MGTF held its Create Link festival incorporating astronomy, science-arts smart camp, young curators, workshops and a short art course. Galeri De Mai and Hotel Bellevue, while still in existence, are no longer thriving with arts activities, like in the 1960s and 1970s.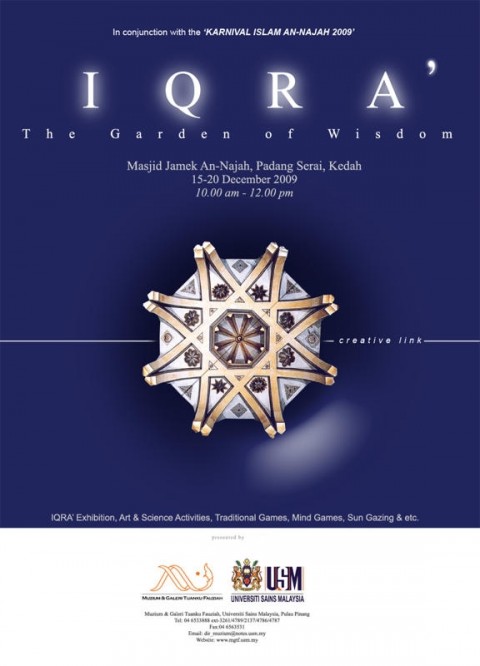 Poster for one of MGTF's Creative Link events.
The quality of the teaching staff at USM also helps. Hasnul J Saidon, a premier e-artist and intellectual, has been instrumental in advancing new art practices and scholarship.
The private Malihom AiR (artists-in-residence) retreat also offers residency to artists at its Thai rice barn-style abodes in a tranquil setting with supporting amenities and services.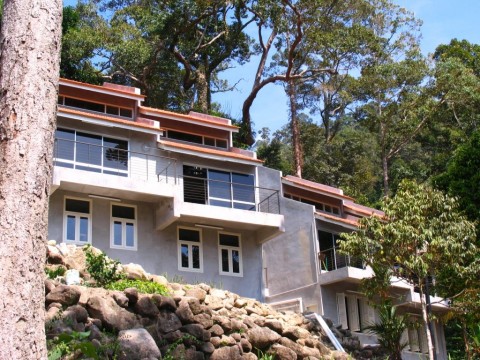 The artist residences at Malihom estate, Balik Pulau
Then there is the Penang Sculpture Trial Project featuring public sculptures started by conceptual artist Hitori Nakayama, a Penang resident for 18 years, under Friends of Penang Earth Group in collaboration with the Penang State Art Gallery and the Penang City Council.
So far, there are monumental works created by Japanese Katsumi Mukai (Wind of Penang, 2005, Komtar), Hitori himself (Sounds of Earth, 2005; Blue Sky, 2008, Penang Promenade), Kulim-based Heng Eow Lin (Rhythm of Life, 2008, Penang Promenade) and Mitsuo Kikuchi (Under the Penang Sky, 2009, Upper PenangRoad).
In August–September this year, the KL-based Lost Generation Space organised the Bangun: Penang Clan Jetties Arts Project to create greater awareness of and interaction with traditional communities in an innovative and creative way.
A video showing highlights of the Bangun Clan Jetties project, from Bangun Project blog.
In the cultural precincts of Armenian Street, where pre-war buildings have been converted into galleries, art is ad hoc and dependent on a few individuals taking up the cudgels. There are the Mutiara Art Gallery, Simon Tan Gallery, Penang Malays Art Gallery and Fuan Wong The Gallery – the showcase for contemporary stained glass and fused glass by Wong Keng Fuan (born 1959), who has representations in Singapore and Australia.
But where is the master plan to support the services of more galleries, art and crafts kiosks and outlets, batik boutiques and shops with unique local products, restaurants/kopitiams and cafes with alfresco fronts? And what about the Khoo Kongsi's hive of mini-stalls which could be turned into a Covent-Garden style meeting place?
Ideally, Penang could have enticed the art students, especially those from outside the state, to stay behind and work after graduating from the various art institutions. But again, the lack of work opportunities and even proper infrastructure have hampered this.
Datuk Khor Gark Kim's Penang Art Centre closed down several years ago, leaving only Yuen Chee Ling's Institute of Conservatory of Fine Arts, which she originally set up with musician Woon Wen Kin in 1987. Yuen, 59, also runs Gallery Art Point with her artist husband, Yeang Seak Leng, and has, since 1993, been running an international women's exhibition called Her Presence in Colours, which member countries take turns to host.
Another art institution is Datuk Chuah Kooi Yong's Equator Academy of Art, which has been around since 1987.

Equator Academy of Art, Leith St campus. Image source here.
Much needs to be done to build up an infrastructure and also a moneyed class appreciative of collecting art. This can only be done by the state government, which needs to re-invent the Silicon Valley hub set up by Tun Dr Lim Chong Eu some 40 years ago, by investing heavily in hyper entertainment and tourism, biohealth and science, animation production and robotics, and marina and eco-tourism projects.
It says much of Penang's economic woes when Chief Minister Lim Guan Eng revealed in a talk in Singapore that the Penang family income growth for the years between 1999 and 2004 was only 2.5 per cent compared to the national average of 6.6 per cent!
In Penang, the arts are low on the priority chain. They could have been the crown jewels of Penang's rich heritage in architecture, multicultural festivals and gourmet delights.
Since the last administration, talk about having a purpose-built art museum has remained just that. Its present home at Dewan Sri Pinang is nothing more than an embarrassing shack that hardly meets basic international standards of administration, professional expertise, exhibition, curatorship, conservation, storage or security.
Penang also boasts its own symphony orchestra, choir and Chinese orchestra. As recognition of Penang's cultural status, The Actors Studio has a base at Green Hall while The Temple of Fine Arts has a Penang chapter at Babington Avenue. The Penang Arts Council hosts the annual Penang-YTL Festival in December, but the festival is overdue for an overhaul.
Clearly, there should be experts running every aspect of the arts and cultural disciplines to take it to the next level and make Penang a global arts and cultural playground. A more sophisticated infrastructure in terms of amenities and services should also be in place, along with a more coordinated and concerted programme with incentives to attract the cream of performers and artists to base themselves in Penang, and to promote them internationally.
Can we hope for an arts and cultural renaissance to bring back the shine to an island once dubbed the Pearl of the Orient?
~
Ooi Kok Chuen is a journalist of 34 years and art writer for more than 27 years. He is awarded Australian Cultural Award in 1991, Goethe-Institut Fellowship in 1989, National Art Gallery Art Writer's Prize in 2003 and 2008. Ooi has written more than 50 books and catalogues on art, judged several art and photography competitions, and organised art charities. He is also the project coordinator 1st Malaysia Art Tourism Expo in Malacca 2006, and deputy chairman 1st Art Expo Malaysia '07.

**Reproduced with permission. This article first appeared in the October – December 2009 (Preview issue) of the Penang Economic Monthly. This 11-year old magazine published by the Socio-economic and Environmental Research Institute (SERI) is being overhauled and commercialized. This endeavour is in response to the growing insight among Penangites and Penang lovers that the downward trend in the state's fortunes cannot be successfully reversed unless they themselves get seriously involved. The goal is to inspire positive action among readers towards attaining a "Penang Renaissance".
For more information, please visit the Penang Economic Monthly site or contact the Socio-economic and Environmental Research Institute (SERI) at 604-2283306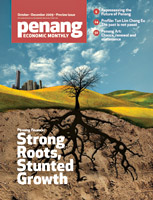 ---
This article was first posted on the original Arteri site on 28 December 2009.