The Forces At Work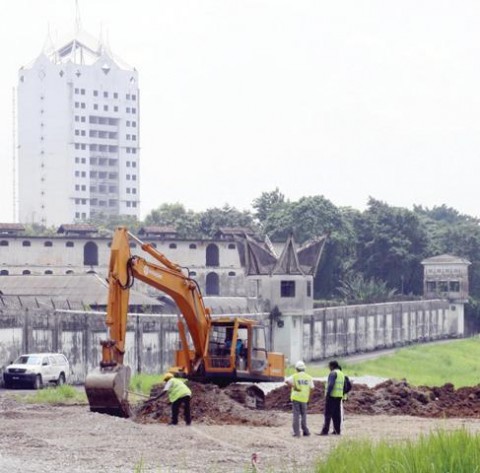 Image from The Malay Mail Online
Not too long ago, I started a new hobby. The parents of a friend were going on a pilgrimage to the Holy Land, that is, Jerusalem and its surrounding areas. We talked about the sort of souvenirs we might like from such a trip, and I said: stones. Sure enough, stones were brought home, each wrapped in tissue paper, some with the locations they were taken from written on them in black ink.
So my new hobby is collecting stones from places I have visited. I took some from the shore of Tomakomai beach in Hokkaido, as well as the banks of Toyohira river which runs through Sapporo city. I picked out a big one from Sungai Chiling in Kuala Kubu Bharu (I asked the river first). Laying these stones out together, they resemble nothing so much as a small pile of rubbish. I suspect one day they'll get thrown out by mistake. For now, they're precious to me. Each one seems to be a small piece from a huge puzzle I've yet to comprehend. Roads traveled, wars fought, the floor of someone's home, bits of mountain dislodged by time and weather…
In a poem-song called Wildebeests, Laurie Anderson sings about Noah and his ark: '…yea, forces came, and they ground him down… into a fine powder'.
What about the forces at work demolishing parts of Pudu Jail to make way for road expansion? Yea, the contractors of Dewan Bandaraya KL have torn down the area where prisoners used to be executed. They'll build a 5-lane tunnel in its place. UDA Holdings is the company said to have bought over Pudu Jail from the government. They plan to develop the land into shopping malls and apartments. Once upon a time, the prison was turned into a museum. It drew 500,000 visitors in the short year it was open. The Asian financial crisis probably contributed to its closure in 1998.
Yea, Mahatir came and Vision 2020 along with him. The twin towers were built. We looked to the future. A whole generation grew up without the proper tools to understand and grapple with history. Apathy came and is with us still. We become more aware of what we are losing, but not fast enough to place Pudu Jail, Bok House and so many other buildings on the National Heritage list.
Forces. Badan Warisan issued a statement regretting the demolition of Pudu Jail, pointing out that 'the silver lining has been the expressions of dismay and calls for the preservation of the jail seen especially in blogs and on-line commentaries from the general public, not just heritage advocates'.
But where is the voice of Persatuan Akitek Malaysia (PAM), themselves housed in a heritage building threatened by redevelopment in 1981? Architects have a huge stake in our changing urban landscape. These professionals have the knowledge and capacity to tell us more about the forces – economic, social and political – that are defining the spaces in which we live. We urgently need to hear more from them.
Why do I take the stones when I already have the memory? What is the nature of the heartache and regret felt by so many upon hearing about the fall of Pudu Jail? History seems to be a process of documentation. Books are written, photos taken, storied told… in many tribal cultures physical objects are of much less importance than oral traditions passed down from generation to generation. Pudu Jail is likely to live on indefinitely on the internet.
I think I take the stones because they preserve and allow… mystery. They declare that the history I've written for them in my head (and in books, blogs, facebook, email, video or digital photos) is only one pattern, one piece, in a huge weave of time and space.
A resistance to the system of progress that keeps us hurtling forever forward, the stones also remind me of my place in time, and of the forces that will come and ground us all down to a fine powder, leaving only the stones, and eventually, not even those.
This is what you will read in news reports and history books: Pudu Jail was built in 1895 by state engineer Charles Edwin Spooner. It became the central prisoners of war (P.O.W.) camp during the Japanese Occupation from 1942 – 1945. The famous murals were painted by an inmate named Khong Yen Chee in the 1980s, using 2000 litres of paint.
But also know this: the stones in the walls held more, so much more.
(SC)
News links:
The Malaysian Insider: Hammer Finally Falls on Pudu Jail
Malay Mail Online: Part of Pudu Jail Comes Down
NST Online: Pudu Prison Makes Way for Traffic
Malaysiakini Video: Pudu Prison Demolition
Blog and Forum links:
Miragestudio.7 Architecture blog
Low Yat Forum
KLUE blog
~
Demolition works began on Pudu Jail last week. We can't turn back the clock, but ARTERI is working on a series of posts about the historic site with the hopes of opening up more discussion on the importance of heritage, history and memory. Stay tuned!
The last two mages in this post are courtesy of Joanna Lee, who is part of the Silent Wall project initiated by photographer Steven Lee. We'll be putting up more on the project shortly. For now, join their Facebook group Pudu Jail, Do You Remember?
---
This article was first posted on the original Arteri site on 22 October 2009.