An Art Fair for Everyone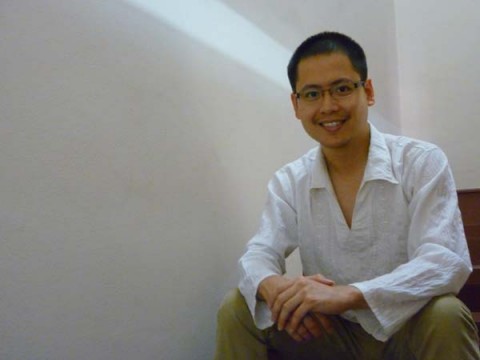 We got busy right after our Raya holidays and invited Sim Pojinn, the youthful and energetic face of Art Expo Malaysia, to our new office space at MERAH. Malaysia is not exactly the country that pops into one's mind when we think of the art market or an art fair. Po-Jinn is trying to change this, just as much as he is committed to create recognition and visibility for contemporary art in Malaysia and the region.
ARTERI: Let's start with how it all began. Right from the beginning. The Motive. Why organise an art fair?
SPJ: The Art Expo Malaysia is very much a labour of love. My dad's passion specifically and it's not so much a commercial enterprise. He has been to quite a few places around the world, often visiting art fairs along the way. He likes art fair because it's one of those places you can spend the shortest amount of time under one roof to look at artworks from all over the world. He then thought he would like to see an event like this in Malaysia. 
To organise an art fair is not an easy feat. It involves so much planning, in so many different areas. We were pretty much learning on the job. It not only involves organising the fair proper but also liaising with various partners in tourism, logistics, insurance, etc.
ARTERI: This year, we see Art Expo Malaysia turn three. How has the fair evolved?
SPJ: Art Expo Malaysia started in 2007. Initially, it was without a solid profile. Everything was built from ground up. Hardly any local galleries were interested to join the fair, unconvinced that it would in any way help raise their profile and guarantee any form of monetary returns. The first fair in 2007 saw mostly artists taking up booth spaces. Our main concern is to strike a balance between showcasing foreign artists and local artists. We wanted the diversity. In the first year, total sales reached RM 2.3 million, which we consider an encouraging figure.
When it came to 2008's fair, we spent a lot more time addressing the complains lodged during the first year's fair. This mainly includes fine tuning the infrastructure, logistics, and solving various problems relating to the set up of the fair. By focusing on providing the best of service to artists and galleries taking up booth spaces as well as visitors – e.g. tour arrangement, security, logistics, marketing of the fair – we manage to run the fair much more efficiently, creating an enjoyable experience for all parties. In our second year, we also manage to get about six out of the twenty five active galleries locally to take up booth spaces. Most of the booths are still rented to artists. However this time round we require artists to start their own company, thereby creating a more professional approach to art dealership. As a result, we achieve RM 5.3 million in the total sales of artwork.
As the fair matures in its third year running, I'm glad to say that we've this far manage to spend more time on marketing and promoting the fair. Our focus was to get more local galleries to participate in the fair. Out of the twenty five active galleries, we got about seventeen of them for this year. We have also invited non-profit spaces, such as House of Matahati and Annexe Gallery because we consider them as important platforms that have continuously championed the works of younger artists in Malaysia.
ARTERI: What's unique about Art Expo Malaysia?
SPJ: I guess our uniqueness lies in our focus. We're putting in a lot of time trying to ensure quality local content in the art fair. Most local galleries don't normally join art fairs around the world as joining an art fair abroad is often too expensive, thus not normally scheduled in their exhibition calendar. Therefore, Malaysian art doesn't get the exposure it deserves. Art Expo Malaysia is thus an increasingly important platform to showcase Malaysian art to the world at large. We spend a lot of time sharing and building rapport with local galleries in hope that we can work together to help create a vibrant market and industry for art. We want to highlight how exciting Malaysian art is and by proving to them that there is a healthy market supporting its growth, we believe that it could convince more people to invest in our creative economy.
ARTERI: What was the fair attendance like last year?
SPJ: Last year, more than 9000 visitors. Half of 9000 are expats. In 2007, the art expo attracted only 4,000 visitors.
ARTERI: And how do you plan to increase the attendance this year?
SPJ: By doubling our marketing effort through media partnership and increasing the quality of the expo (of the participating galleries, and of the Highlights, which include the world-class digital artist Miao Xiaochun). We hope to draw in more collectors this year. Entrance is free for the fair. We have free shuttle buses with various pick up points around the city to bring ppl over to Matrade centre. We are still in the process of finalising the routes and schedule. Once these are confirmed, we will post up on the website.
ARTERI: How are you reaching out to the public or the art world?
SPJ: We have more than twenty art media partners including Asian Art News, Arteri, World Sculpture News, Fine Art magazine (Thailand), Contemporary Art Philippines, C-Arts, Visual Arts Indonesia, Singapore Art Gallery Guide, ART India, Art in Asia, sentAp!, Arts Channel, Senikini, etc. In addition, we have another 35 media partners locally. It extends beyond covering what the fair is all about. Our media partners also writes about the state of art in Malaysia from various analytical points of view. All in all, it involves in the creation of awareness that Malaysia has a healthy and intellectually-engaging art scene.
ARTERI: Can you also tell us how you've been promoting the fair or Malaysian art to our younger generation?
SPJ: Often how you see the success of art fairs are in terms of sale figures. For us, that's only part of what we hope to achieve. We also want to promote the idea that experiencing art is an enjoyable past time and activity. You don't have to buy art to enjoy it. That's why our fair is open and free to the public. We want more people to come and explore art and we've been using facebook to create hype and awareness amongst the younger generation of artists and art enthusiasts. Also, we'll have a website launch this year, hoping that more people are able to access information about the fair. Working with a number of non-profit spaces also draws in their following.
ARTERI: As we weather through an economic downturn, how optimistic are you that this year's fair will be a success?
SPJ: From what I understand of our local art market, the market is still selling relatively well. A slowdown is inevitable but because Malaysian art is still affordable, the market will continue to expand and grow. By attracting more collectors to the expo this year, hopefully, it'll be even better! And also, hopefully the H1N1 situation in Malaysia doesn't exacerbate.
ARTERI: Last but not least, the all important question! Sustainability. Where do u see the fair going from now?
SPJ: What I notice about art fairs is that it is an event that changes every year. Every year is a new challenge where we try to keep up with what's going around the world and stay competitive. The format of the fair is never entirely fixed. Increasingly we hope to focus more on contemporary art. To promote Malaysian art, we hope to continue fostering a strong working relationship with our local galleries. International and regional recognition of Art Expo Malaysia as a must-see stop-over in the art fair calendar is also our priority. Ultimately we want to build a healthy and vibrant local economy, but more importantly, we want to create a sustainable infrastructure that will hopefully contribute to the local art scene.
~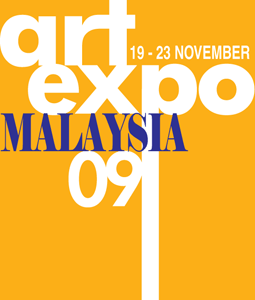 (EM + SS)