An Idea is cheap, unless it is realised
At the Old Town White Coffee in the basement of Pavillion, Haffendi Anuar (Haf), Muji Lee (Mj), Alfred Choo (PC), Gan How Ming (HM) and Amar Shahid (Am) came together as organisers and curators of BREAKTHROUGH to answer some of the questions we have for them on their upcoming project. (July 22nd 2010)
ARTERI – Is this your first time organising an artist initiated exhibition? Can you share with us a bit about your experience? What are some of the challenges of producing an independent art project?
PC – Yes indeed! It is our first time in curating our own show!
Haf – We are just a collective of artists, not a group trying to promote idealism or having a grand vision. We are an open group, and we will include any artist that wish to join our projects. We want to promote healthy practice among young artists and that to help and work with each other and it is a very healthy example when young artists take the initiative to organize their own shows and events and make them happen.
Am – The trend among new graduates is that they form a group with a set number of gang members, and with this group mentality, they search for hunting grounds instead of creating one. We are not going to hunt instead we create try to create opportunities for other young artists, you can call this as a "breakthrough" I guess.
HM – I feel that all the young artists are just doing their own shows within their own network, we want instead to link and explore the art field. That's why we invite people from different backgrounds, age groups, styles and area to join.
PC – We did meet a lot of problem along the way. In the beginning we worked very loosely and kept changing our ideas. As the exhibiton progressed, the whole project becomes more and more complex and complicated. We almost lost our direction.
Mj – My lecturer told me "Idea is cheap, only when you can realize it, it is worth something", he said even a beggar can have an idea, but how many people can really realize their idea?
HM – Ya that's right, in my own experience, if you have an idea you must realize it, or you won't know what will you do next. As for the management team, the biggest challenge in organizing this show is to co-ordinate between people, sometimes you might feel shy when you are going to communicate or bargain with others, but we have to be strong and confident! Then all the challenges could be overcome.
Mj – New discoveries of ways of producing a show? We never produced a show before.. so there isn't any new or old concept to grow from.
PC – Ya.. but among all the steps, publication is the most important part. If you want more people know and attend your show~ We almost got screwed up with some Facebook's functions! So finding experts in different fields are important in group-works~ we can't solve everything on our own.
Haf – It was tricky at first, trying to understand HM's concept, and I was a bit hesitate to believe this young chap, but since he charmed his way into my mind, and before I knew it, I was stuck in the project like I'm stuck to a piece of dodol, and ended up being a puppeteer to co-ordinate the individuals in the project. There were so many talents in the exhibition; we can even do 10 venues instead of 3 if we have more time and resources. Maybe for the next one, if this one turns out to be a success, we might try to look for more sponsors and supporters.
HM – Hahahaha, don't say it like that, we also feel grateful to be able to work with like-minded people and getting things done. I curated and organized a show last year, it was my first show, with only 2 friends exhibiting 8 artworks and that how I learned about the miscellaneous steps of doing a show. And in the beginning of 2010, I participated in a commercial show; I got to know many people there and then had the idea of doing , a large show, involving 3 venues, 15 artists, for 2 weeks, and it all started from a playful thought and a naive dream.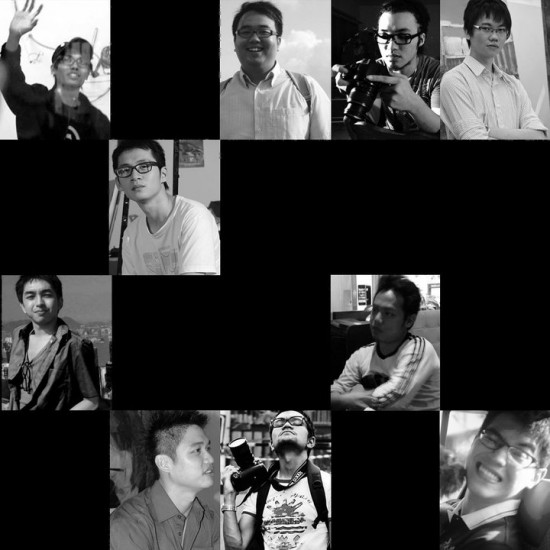 ARTERI –  Your exhibition statement notes that BREAKTHROUGH is an invitation to 'break through the old concepts.' What are some of these concepts that we need to re-think or do away with?
HM – Actually the exhibition was used to be called "Don't Want To Tell You", because we try to tell people something by not TELLING them, and we thought it would be a "funny and interesting" title, sort of trying to make it catchy. But after a serious meeting with the group it was changed to "Breakthrough" , it was Muji's Idea.
Mj – (Nods) We think that the title "Don't Want To Tell You"  is quite narrow, we hope that we can have a concept that can fit any form of artwork though it still can unite the diverse ideas.
Haf – We are trying to break the old concept of artist being exclusively linked to galleries and that they have to be "discovered" by these dealers and gallerists in order for them to have a career. We want to avoid that scenario and instead self-promote ourselves and create our own shows. Take things into our own hands. The old concept we mean here also is the creation of exhibitions that are solely meant to trade works with cash, we hope to create interactions between audiences and young artists, the young artists with students and on the side offer some collectors some works to be acquired.
Am – We are also introducing more novel art forms instead of traditional ones, thou, we still include a few. It is to create a new market for these experimental works and introduce them to the public in Kuala Lumpur.
PC – And also we want to "breakthrough" the way Malaysians usually think about what art is and everything else.
HM – Yes that's it, we try to breakthrough the way people observe things, and it is what we learned by looking at art. We have a different sort of perspective of the world, and this is what they say the difference between the artist's eye and the public's eye. We try to introduce and invite our audiences to join and feel this. Instead of asking "Why?", we ask "Why Not?"
Mj – It was our vision to form a production team that makes a lot of art related events, such as inviting non-visual artists to create visual art, exhibit them, combining different art forms and create "happenings" around the city, and eventually the globe.
HM – My thought is art should be "public friendly" so that everyone in the city could enjoy, learn and withdraw from the mundane.
PC – This sounds like Pop-art but we do it using a different approach, we are not making straight-to-the-point type of art, but we are trying to teach the public to understand what we are doing. Art should be an attitude in our life; this is quite a popular phrase that I always heard of. However, Malaysians are not usually exposed to these kinds of things thus; this is a massive challenge to us.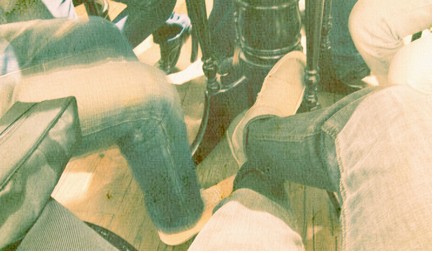 ARTERI – Why do you think more and more artists are not relying on commercial galleries anymore for exhibitions? Do you think the independent spirit of artistic production is a new trend?
PC – REALLY??
Haf – As we mention above, artists should take their own initiative and creating not only artworks but activities, the art scene is small and relatively new.. its easy for young artists to get noticed when they start getting busy. Moreover, waiting for a gallery to promote you could depress a young artist or break his spirit.
HM – Why?
AM – Because the practice nowadays is not really progressive, there are many platforms, like to get into not commercial gallery. The field of art could be intimidating enough, so you don't need that kind of passivity to survive. You have to be in-control of your own practice.
Haf – I guess so.
Am – I don't think it is really a new trend, it has existed for quite a while, an independent spirit is required initially for you to be an artist.
HM – I don't feel that trend. While I'm still in college, I feel that to enter a commercial gallery is the first step to success. But more and more depressing news come out because some of our seniors mention that commercial gallery might affect your artworks or style to suit their TASTE, and that's really depressing. But for me, to create a show is the same as creating an artwork. I like to make things happen; creating this show is just like using a form (the exhibition) to express my thoughts and ideas (breaking through old concepts). I think the new trend among up-and-coming artists is they don't fix to a certain style, they like to do many kinds of things and art forms, their motive is to express and explore and that's partly the reason why I organized this show, to exhibit exciting forms of art.
Mj – Being independent lets us learn more because we have to do everything on our own, and it is good that we could work with like-minded people. As an artist, at least our thoughts are quite similar, and that's easier for us to co-operate, right?
Haf – Yeah you're right~~
ARTERI – You also stated that the internet is used to connect the exhibition which will be held in three different locations. What do you mean by this?
HM – The idea was inspired by a show. It was my senior's show and that she participated in a design show overseas where she was unable to attend but then she email her designed items to them and let them print and exhibit over there. When the show launched, they broadcast it in between the 2 countries in the opposite sides of the globe.
Mj – The technique and concept existed since the last century, it is actually the same as live-transmitted news.
HM – We use this as the medium to link the 3 venues. As the venues are separated, the audiences are able to look at the live-streaming video broadcast, and feel like they are being in the same space as the other exhibitions~ In the beginning, they cannot understand the point of this and kept asking me "why must we show in 3 places??"
Mj – Hahaha ya, but now I know it clearly. We feel there would be a cluttering of art forms in an exhibition because of the limited space. Some of the art forms might clash; for example, people might be more attracted to a colored work rather than black and white painting. But by expanding the venue, we can segregate the works clearvely and hopefully all the artworks could be appreciated at the same level.
HM – The locations are separated, but the exhibition is still could to inter-relate harmoniously through the video straming~ we will use http://www.ustream.tv/ as our streaming website, so stay tuned and observe our facebook and blogspot~!! We will keep you guys updated about the streaming program and that our new concept is that you do not need to be at the venue but you still can enjoy the show "live"!
Mj – Do you think that the audiences won't come if they can watch at home? Nonono, they'll then come if they found-out that the exhibition is interesting, that's why a singer's concert tickets would still sell-out even if he releases a DVD~
HM – Ya and with this, we hope can spread our exhibition to a wider audience~
ARTERI – Can you tell us what are some of the highlights of the exhibition? Any artworks we should look out for?
The video stream, the voice guide, new forms of art such as Digital Art which is rarely seen in this city, the disparate location among the city, to dissipate art into urban life.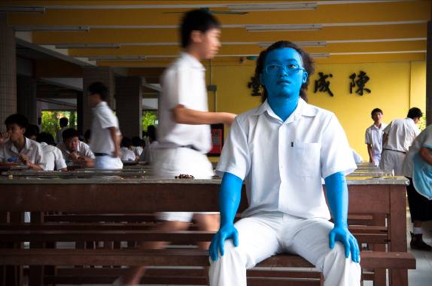 The Blue Man Project
Alfred Choo Peng Chiat
Performing Art
This performing art investigates pop art culture, when a Art "POP UP" into your world, what will you think? Documented and presented in photo and video, this performing art deliver the message of the artist. (Location: KLpac)
The Songket Matrix Series – Songket Shooter
Amar Shahid
Video Projection Interaction.
In this work of projection, questions are asked and rediscussed : in recent trends of digital arts and mass customizations, how can we reconstitute the nature of art? Audience has been ask to think with the message deliver by the artist by interact with the artwork with a game controller. (location: Dasein Gallery)
Untitled
Lee Mok Yee
Installation
Plaster Clay is the material the artist always keen on making research and develop into. The usage and develop of the material ask audiences to observe and view the material in a different way. (The Gallery @ StarHill)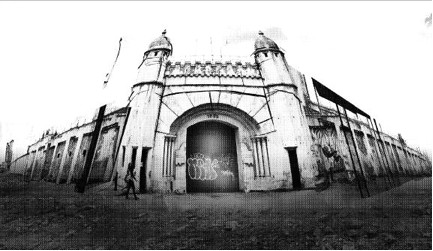 Pudu Temple
Gan How Ming
Combine Printing
The combination of printing method explores the possibility of print-making. The usage of transparent Perspex create the depth of space, this made a 2 dimensional print has an illusion of 3 dimensional works. Pudu Temple, a salute to our heritage. (The Gallery 2 StarHill)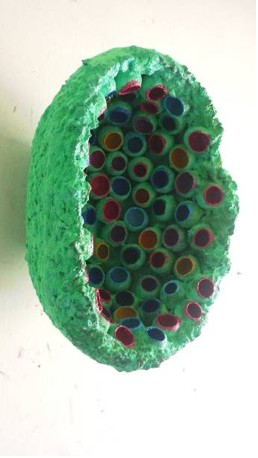 Secret Party
Haffendi Anuar
Construction
A small organic piece that is more a construction than a sculpture. The form is derived from the form of the "tudung saji" at which the paper-mache has coated the real object. The tudung saji is an instrument made to keep insects away form food is instead turned to what appear to be a colorful nest. Secret party connotes to the current state of the Malaysia sub-cultures where parties belonging to certain minorities groups that are made without the notice of the larger public. Secrecy creates the intrigue.
HM – (To audiences) There'll be more than 50 artworks exhibit all over 3 venues, including short film screening. You must come and join us visiting all the venues to see all the artworks! And join our short film screening and art talk at 13th and 20th of August 2010 at KLpac too!!
As a Conclusion
Haf – "Space" and "time" are two important factors in this exhibition. Breakthrough 2010 experiments with the notion of "space" and "time" as media that could be manipulated to enhance an art exhibition's influence onto the public, the presentation of artworks and how disjointed and disparate exhibition venues could be linked via video technology and the internet (time, sound and visual). "Space" or rather locations and exhibition venues are chosen for specific aims such as to broaden the marketing and reception of the show and to ease accessibility to the artworks. "Time" is defined in this project as events and activities and are planned to enhance the engagement of the public with the artworks and the artists.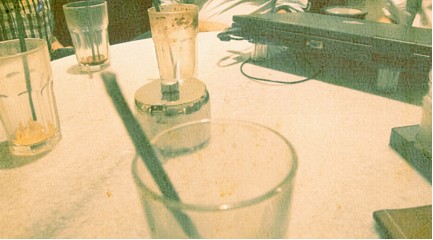 After the Interview…
Haf – Time to go, I want to go for gym~
Am – Any questions, you can refer to HM (breakthrough2010.malaysia@gmail.com)
Mj – I'm going to YMCA… The opening of the show will be at 3pm 7/8/2010 (saturday) at The Gallery @ StarHill. Come and join us!!
HM – Then we'll have to go back by LRT?
AM – ya, that's enough for today's interview
HM – we should thank ARTERI for giving us a chance to this interview.
ALL – THANKS ARTERI!!!
Haf – And thanks for reading this interview!!
Breakthrough will be held in three different locations from 2 – 22 Aug 2010. For more information, please visit their website.
~
(SS)