Asia Pacific Triennial 6: Roundtable Part 2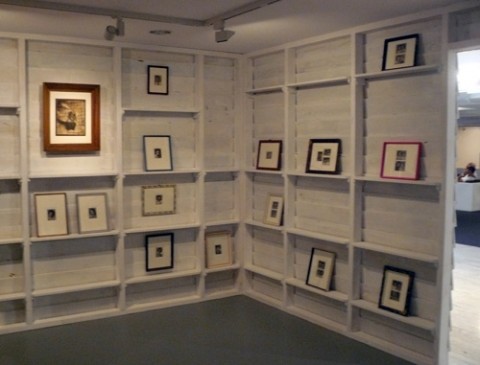 Sooshie Sulaiman (b. 1973, Malaysia), Darkroom (2007-09), Photography, mixed media, timbre; Installation view, Queensland Art Gallery APT6; Photograph by Gina Fairley
Welcome to the second part of the Sixth Asia Pacific Triennial Roundtable. I hope the dialogue here between curator Clarissa "Lisa" Chikiamco (LC), artists Ho Tzu Nyen (HTN), Shooshie Sulaiman (SS) and myself (GF)sparks some throughs and perhaps even a dialogue of your own.
Gina Fairley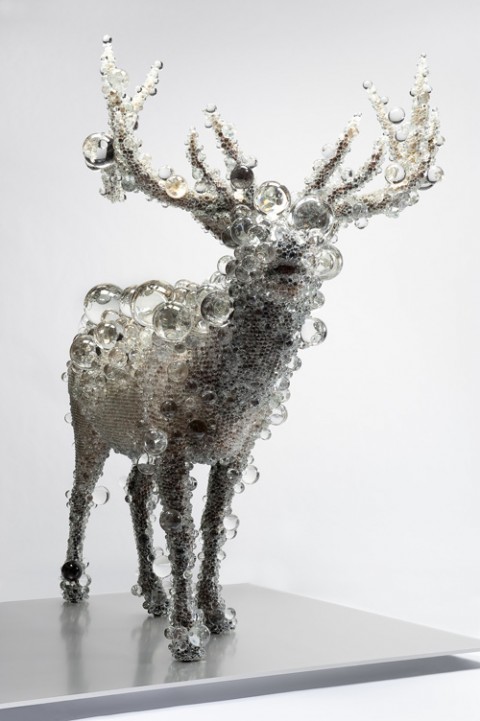 Kohei Nawa (b. 1975, Japan), PixCell – Elk #2 (detail), 2009, Taxidermied silk, glass, acrylic, crystal beads, 240 x 249.5 x 198 cm; Work created with support of Fondation d'enterprise Hermes; Courtesy of the artist and SCAI, Tokyo; Photography by Seiji Toyonaga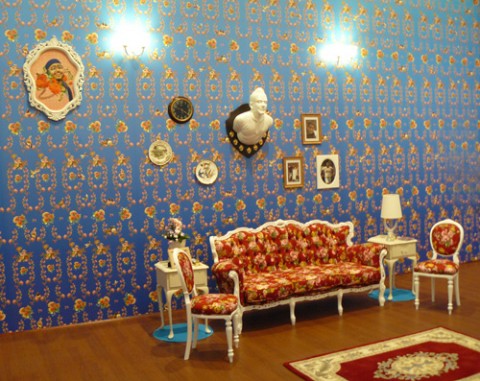 Thukral and Tagra (India), Escape For A Dream Land, 2009, Mixed media installation; Project for APT6; Photograph by Gina Fairley
GF: I want to focus on that word 'dissonance' that Curatorial Manager Suhanya Raffel uses to describes APT6 in the exhibition's catalogue. So, if I consult my handy MAC dictionary, dissonance's primary definition is: a combination of sounds that is unpleasant to listen to; a lack of consistency or compatibility between actions or beliefs. Do you think that was successfully conveyed as an idea in APT6?  And do you think dissonance is a good descriptor for this region?
LC: The exhibition's hang seemingly corresponding to Suhanya's concept of dissonance – there was a disjointedness between the artworks in my opinion. Without a theme to relate the artworks, it becomes more natural to simply take each artwork for itself, which had been my first reaction in looking at show and reading the individual wall texts.  However, I would have liked [introductory] texts in the galleries that would have commented on or elaborated this dissonance that the APT surveys as one of its main purposes.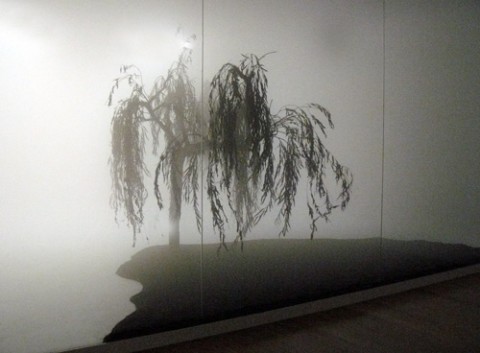 Kibong Rhee (b. 1957, South Korea), There is no place – Shallow cuts, 2008, Glass, fog machine, artificial leaves, wod, sand, motor, timer, steel; Installation view; Courtesy of the artist and Kukje Gallery, Seoul.
SS: I feel differently. I think the concept of dissonance is quite visibly minor in APT6. When I toured the show for first time with Russell Storer, I could easily associate the flow of hang. Every artwork seemed to have been very carefully placed. It was more like a crafted disturbance – not harsh at all. Maybe contextually one can see the 'dissonance', but not so much in the structure of seeing. I compare this with strong dissonance in Aue Pavillion in documenta 12, which challenged me tremendously, and made me curious to ask the curators the reason for their approach. The aesthetic of risk suits these structures. I think we must read big events [like biennales] with our own archive of references and create our own perspective in looking. I consider strongly each exhibition's roles and history – its position – before I want to make myself understand – my position.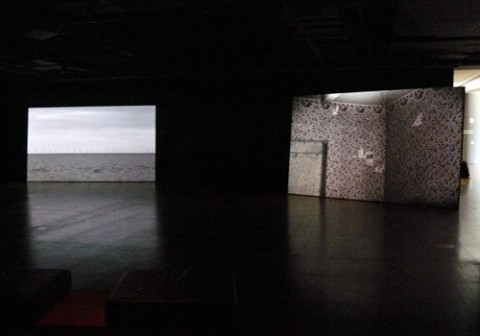 Hiraki Sawa (b. 1977, Japan), O, 2009, 3-channel video projection, 10 short films on monitor, 5 channel sound by Dale Berning on spinning speakers, colour, black and white, 8 minutes; Commissioned for APT 6; Photograph by Gina Fairley
GF: If we are considering, as Shooshie says, our 'perspective of looking', then my question is do works get a fair ground for consideration?  There was a lot of bling or 'biennale spectacular 'on first impression. The quieter works were almost lost. A classic example is Kibong Rhee's installation of a tree subsumed by a fog environment alluding to ancient scroll painting and Hiraki Sawa's multi-dimensional study of spinning objects. The pace or balance kind of felt out of wack. For me it was the quieter works that spoke the loudest – such as your work Shooshie. I think it was a very alert and contemporary work.  And Jun Nguyen-Hatsushiba film of the Mekong juxtaposed with works by Svay Ken for example, was strong in that it collected dialogues across generations and geography.  How do you all feel about the synergy of APT6?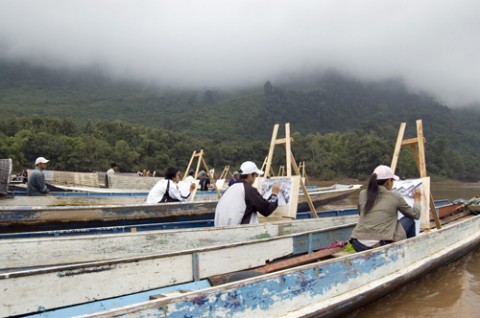 Jun Nguyen-Hatsushiba (b. 1968, Japan/United States/Vietnam), The Ground, the Root, and the Air: The Passing of the Bodhi Tree (still), 2004-07, High definition digital video, single channel, colour sound, 14:30 minutes; Image courtesy of the artist, The Quiet in the Land, Laos, Mizuma Art Gallery, Tokyo and Lehmann Maupin Gallery, New York. Photograph by Yukari Imai
HTN: Gina I wonder if you can clarify the terms 'biennale bling' and 'quiet'.  These terms seem to imply some form of dichotomy, while suggesting a kind of implicit 'moral' hierarchy where the so-called 'biennale bling' are 'loud' and thereby almost automatically(?) hollow, while works that seem quiet are somehow assumed to possess some form of superior depth.  It seems rather like saying that only the quiet kids in class are good kids, and the loud kids can't be trusted.
Taking the works by Kibong Rhee and Hiraki Sawa as examples, I guess I can see why you describe these works as quiet because they seem to partake in a kind of aesthetic sensibility that is more meditative. Yet at the same time, I would say that one can also describe both these works as being highly spectacular in the scale and the degree of finish in their presentation. Hiraki Sawa's work consists of three large projections, a number of smaller flat-screens as well as several amazing spinning speakers all arranged within an extremely large room.  It seems to have its own kind of 'biennale bling' too!  I mean this without any critical judgement as I feel Hiraka Sawa's work is one of the most interesting in APT6.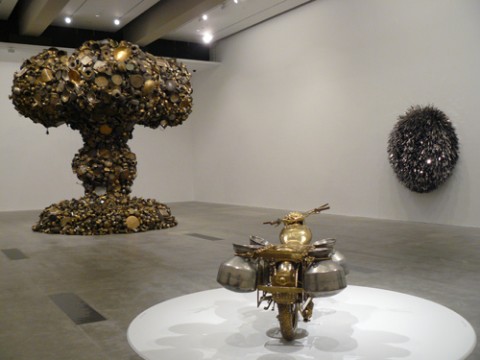 Subodh Gupta (b. 1964, India), Installation view APT6, Gallery of Modern Art, Brisbane; Stainless steel and steel structure, brass and copper utensils; Photograph by Gina Fairley
GF: Tzu you give me a belly laugh. I was just baiting you where  bling = big spectacular are works that we have become conditions to expect with biennales [a particular definition in itself that the APT, in truth, does not fall entirely comfortably within], and quiet = slower, probing works rather than the initial pow read like a headline. We all take liberties in our descriptions and that is the nature of sharing our own responses.
But yes I agree with you, Hiraki Sawa's work is an interesting one to discuss, and sadly I think missed by many given its location tucked away in a corner of the second level. It does have all the hallmarks of 'big exhibition production'. I suppose my reading of it as a quieter work is that it asks time of its viewer to take it in and consider its connections. While a seemingly simple premise, it is a deeply complex and sophisticated work.  As you rightly suggest the semantics we overlay through such comments like 'bling' and 'quiet' – or your own 'meditative' – carry all sorts of baggage.

Zhu Weibing (b. 1971, China) and Ji Wenyu (b.1959, China), People holding flowers (detail), 2007, Synthetic polymer paint on resin; velour, steel wire, dacron, loadestone and cotton; 500 pieces: 100 x 18 x 8 cm (each); Collection of Queensland Art Gallery; Photograph by Gina Fairley
SS: It's a very expected format and Suhanya's team upgraded more the 'spectacular' prestige. The show is huge and beautifully fused… the aura of prestige as 'bling' was achieved. After all the body of works by the artists aesthetically were successful in communicating their 'regional' message to the audience. However, I also agree with Gina in that I feel 'the quieter' pieces do fade away. The institution must create special tools and be more curatorially alert to handling deeper subjects / quieter pieces to allow for their audience's developments. Placing artworks need guts! I respect APT6s curatorial team in handling hierarchy and ego's!  I like my area under the stairs; it's perfect for my piece however it is not well planned in terms of audience awareness.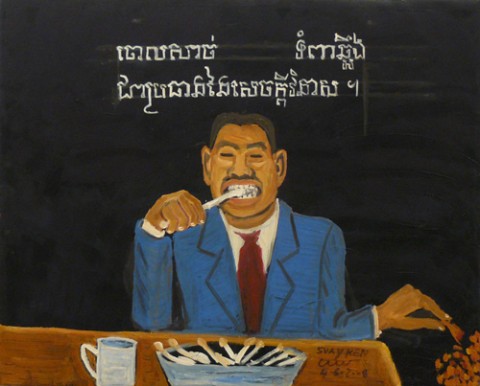 Svay Ken (b. 1933, Cambodia), Leaving the meat and chewing the bones leads one to ruins, from 'Sharing Knowledge' series 2008, Oil on canvas, 80 x 100.2 cm; Collection of Queensland Art Gallery
HTN: The question for me is whether the hang of APT is a strong form of dissonance or a limpid take on randomness? Second, if the works are freed from the task of responding to an imposed narrative (and to each other), are they now over-determined by the dictates of gallery design? And if so, what are the implications of this over-determinism by design?
GF: The problem with the APT is that is has to accommodate the scale of GoMA – so it is always going to have that first impression with big showy works.  As – I think you are suggesting – such a hierarchical dichotomy of works:  big / intimate, spectacular / quiet, brash tangibility / mystical or ethereal – undoubtedly leads to fracture within the curatorial model. To MANAGE that flow between works and scale; the exhibition's pace between awe and curiosity – and this is not even considering the diverse audience of a major state museum – is a tricky base to work from. One curatorial model it to attempt to stitch it all together with threads, connecting works or themes as Lisa suggested, or the other options is to opt for disconnection as both you Tzu and Suhanya's comment point towards.
I suppose neither is right or wrong. It is a curatorial choice. As you say Shooshie "Placing works takes guts!"  My criticism falls in navigation. How do we-the general public-know which route they -the curators and institution-are taking?   As you suggest Tzu, we are given 160 individual capsules for consideration. How do we start to understand this region through these works?  These ideas are compounded when you add to that a 16-year history that has conditioned audiences, and arts professionals like ourselves.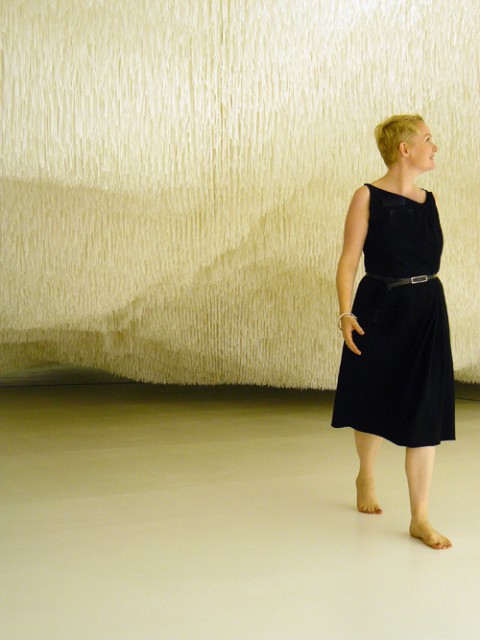 Shinji Ohmaki ((b. 1971, Japan), Liminal Art- Descend, 2007-09, Nylon string, fluorescent light, glass; Installation view APT 6 Gallery of Modern Art, Brisbane; Photograph by Gina Fairley
SS: As an artist, I think the audience needs to learn to be independent at choosing what artwork appeals to them and what they relate to, and not so much rely on curatorial guidelines.  They need to use their own 'archive' to interpret or understand. But as the mediator (the institution), the job in multi-level interpretation can be really tough especially when most of the audiences are art related. My experience with documenta was that it was the local public who responded and celebrated. I saw an Andy Warhol original silk screen print in a home in Kassel. This lovely family purchased this work at a documenta exhibition in the 70s. To me, this isn't about the act of purchasing, but how the general public has engaged contemporary art in their everyday lives. Again, this takes us to what kind of relevance are we looking at here with the APT. As young as APT is, it has proven strongly its critical qualities in many aspects. APT6 is really huge and a highlight of this region!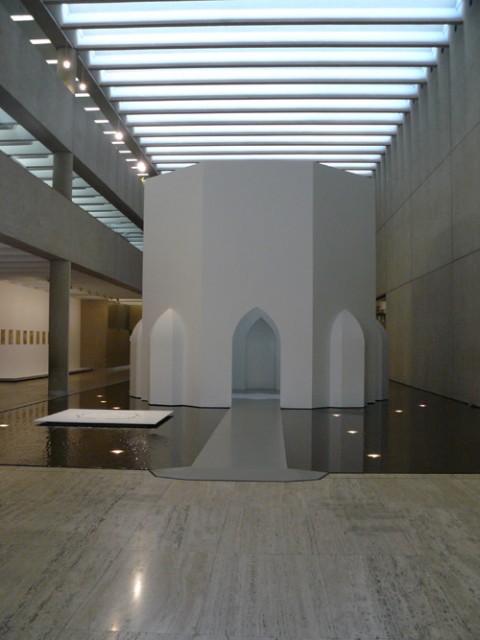 Ayaz Jokhio (b. 1978, Pakistan), a thousand door and windows too…, 2009, MDF, wood, aluminium, paint, 600 x 600 x 600 cm; Site specific work for APT6, installation view Queensland Art Gallery; Photograph by Gina Fairley
LC: I was pretty surprised at how few people there were on the second day and all the empty seats in the symposium after the keynote speaker.
GF: Both of you might be surprised to know that APT5 drew a reported crowd of 700,000 [that is more than half of the events attendance over its 16-year history] and almost 45 per cent of APT5 audience was aged under-35. The largest audience is a local public.  As Deputy Director Lynne Seear said to me last year, "…we are very audience focused."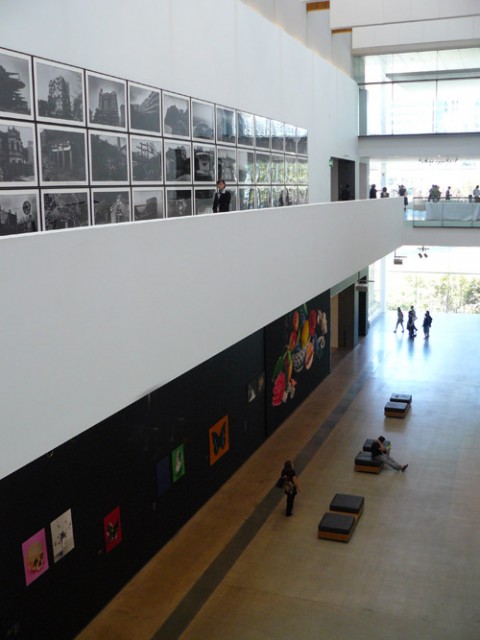 Installation view of APT6, Gallery of Modern Art, Brisbane; Photograph by Gina Fairley
LC: I think the most successful aspect of APT6 would be the kids' program. They obviously thought and put a lot of time in it. For me it was refreshing to have an art exhibition that put a lot of priority on children as visitors. It was a pleasant surprise to discover that most works had a caption for kids, while it was no surprise at all to see the adults enjoying participating in the kids' APT commissioned works!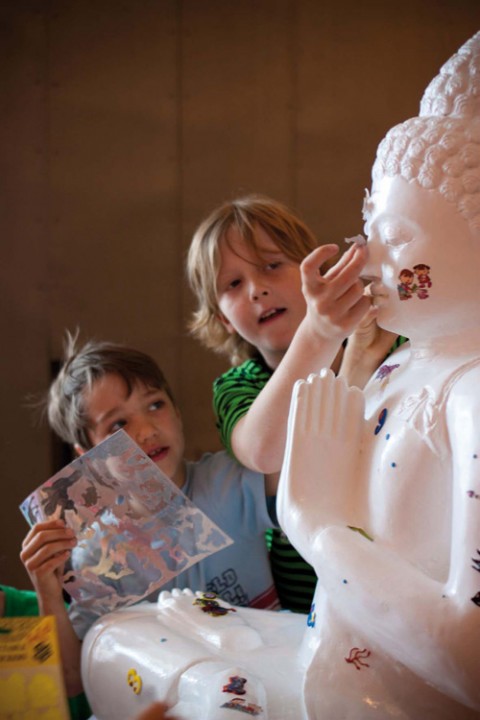 Gonkar Gyatso, Funky Buddhas, 2009, for Kids' APT activity APT6. Photograph by Katie Bennett; Image courtesy of Queensland Art Gallery
GF: Their focus is clearly underlined in their programming and commissioning of works. How can one challenge or criticise Kids APT – it is brilliant. My grave fear, however, is that by embedding education-driven artwork for kids within the core exhibition it drags down the level of critical inquiry and flow across the exhibition. Just thing the two works you see when you first enter each of the venues are Kids commissioned works – one of which is your's Tzu "H the Happy Robot". My critique is not at the work but at the tone it sets for such a sophisticated and layered exhibition from the outset. What is so wrong with containing it to the huge and sensational GoMA education centre and kids didactics?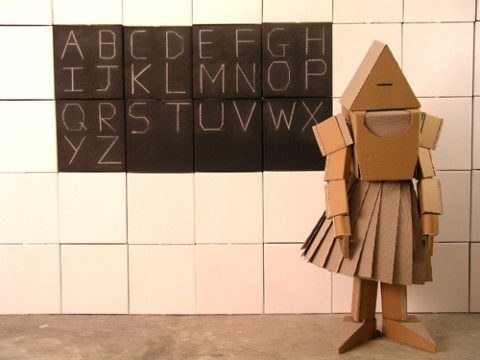 Ho Tzu Nyen (b. 1976, Singapore), H the Happy Robot (production still), 2009, High definition digital video, single channel, colour, sound, 6:42 minutes, ed. of 3; Commissioned for APT6; Supported by the National Arts Council and Singapore Film Commission. Image courtesy of the artist and Tzulogical Films; Photograph by Stephanie Goh
HTZ: Is the design of APT6 driven by functional principles such as ease of access or convenience (for example, works allocated according to respective size) or is it aesthetic (this work looks good next to the other)?
GF: I did another roundtable for the Australian magazine Eyeline with David Teh and Lee Weng Choy. Of concern at the time of our discussion was that the APT had become somewhat 'GoMAised'.  I know I am a little out on a limb but with the level of focus on Kids APT, then add to that is Pacific Reggae section [essentially comprised of music video clips] and then a cinema program, the visual component has become bundled up in this greater 'Public Program' – or GoMA brand as the guys were discussing.  Perhaps this is the great clash of dissonance?
Finally, in response to Tzu constant probing and questioning for definitions – I just used "bling" in the same way that Shooshie chose "mystical" and Lisa "Asianness" – they are seemingly loaded triggers, yes, but that point of connection for an exhibition this diverse in its scope is going to land differently for everyone. Each is a valid response and in considering them I think it starts to expose the many layers that exist within this exhibition and that have not been fleshed out by the APT.
For me, walking away from APT6, I felt there was a greater sense of disconnection than past editions of the exhibition – albeit curatorial disconnection or one's own disconnection. While 'Asia' is far from consistent or compatible-and I can see the desire to work against the catch cry of 'contemporary Asian art'-dissonance needn't work against curatorial synergy.
The question I would like to leave ARTERI readers is:  Do you think the APT today has a relevance to the region it profiles?

Alfredo and Isabel Aquilizan (the Philippines), In-flight (Project: Another Country), 2009, Mixed media, site specific work for APT; Installation view Queensland Art Gallery; Photograph by Gina Fairley
~
Both the work of Ho Tzu Yuen [Singapore] and Shooshie Sulaiman [Malayisa] was presented in APT6. Clarissa "Lisa" Chikiamco [Philippines] has just completed her MA in Art Curatorship from the University of Melbourne and caught APT6 enroute to returning to the Philippines; and Gina Fairley is a freelance writer specialising in Southeast Asian contemporary art. She was formerly Exhibition Co-ordinator for the Biennale of Sydney.
This roundtable is also published by www.slot.net.au and excerpts in the Philippines. I want to thank all involved for their generous support and candid conversation.