Follow the Sound, don't let it escape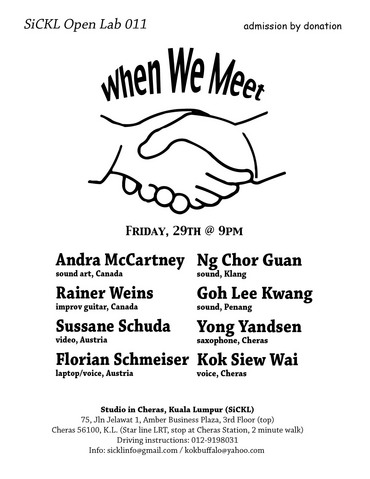 ARTERI: Ok, remind us again what Open Lab is for?
Kok Siew Wai: Studio in Cheras KL Open Lab (SOL) series is a bi-monthly art laboratory for artists to show works, network and form new collaborations. SiCKL provides an open platform for artistic expression, experimentation, improvisation, learning and collaboration. SOL is especially interested in experimental, avant-garde and improvised art and music. We encourage artists from different backgrounds and mediums to collaborate with each other. We welcome artists from all disciplines.
Who and what's special about this upcoming edition?
We'll be having a East meets West night! Line-up is: sound artist/senior researcher Andra McCartney (Canada) who does soundwalk and sound art performance; established jazz and improvised music composer/musician Rainer Weins (Canada); sound and media artist Florian Schmeiser (Austria) who uses unconventional objects such as a barcode scanner to make music; and video and new media artist Susanne Schuda (Austria) whose work reminds us of the Surrealists. Not forgetting our very own local players: sound artist Goh Lee Kwang, powerful woodwind player Yong Yandsen on tenor saxophone, composer/musician Ng Chor Guan and myself on voice. I'll play with Andra McCartney, and the other three local musicians will team up with Rainer Weins.
It's quite a line-up! How did these people come together? What's the story?
Andra McCartney and Rainer Weins are visiting the college that I work for [Malaysia Multimedia University]. I'm organizing Andra's activities in the college with the staff and students, so I just invited Andra and Rainer to also do a gig at SiCKL! Susanne Schuda and Florian Schmeiser have found us out by Google! They Googled "experimental music and art in Malaysia" and SiCKL popped up! Thanks to the internet. All of the local players are long-time collaborators and friends and we always play and have fun together.
What's the relationship between what people are going to experience that night, compared to say, listening to songs on the radio?
Depends on what kind of radio shows they listen to, ha! Well, I'm going to quote improvised percussionist Edwin Prevost,
Listen!
Follow the sound.
Do not let it escape.
Pursue it and not the spidery threads of allusion.
Wait.
Let the sound come.
Embrace its resonances.
Move
The bow across the strings
In time with your heart.
As if playing for the very first time.
(from the prologue of his book No Sound Is Innocent)
As for me, I'd also say, "as if listening for the very first time".
Experimentation – what's the most important thing about it?
To have an idea to try out. And then really work hard to try it out. Open, spontaneous, honest expression, like a curious baby. A kind of nakedness, raw, without much protection and decoration; focusing on the process itself, the end product (presentation) becomes not so important. That is what I have learned from experimentations in art and music.
Openness – what's the most difficult thing about it?
It is blocked by preconception and prejudice, pride, fear and insecurity to unknown or unfamiliar things.
~
Date & Time: 29 January 2010, 8:45pm
Location: Studio in Cheras, KL
Add: No. 75, 3rd Floor, Amber Business Plaza, Jln Jelawat 1, Cheras, 56100 KL.
By Train: Take STAR line LRT heading to "Sri Petaling", stop at CHERAS station. The studio is 2 minutes walk from the station.
Here's a map!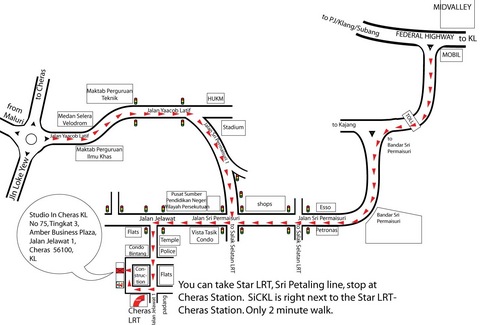 Admission by donation.
This is the 'hottest art space in town'. Wear light and casual!
Read more about SiCKL on ARTERI here.
(SC)