Still Crazy After All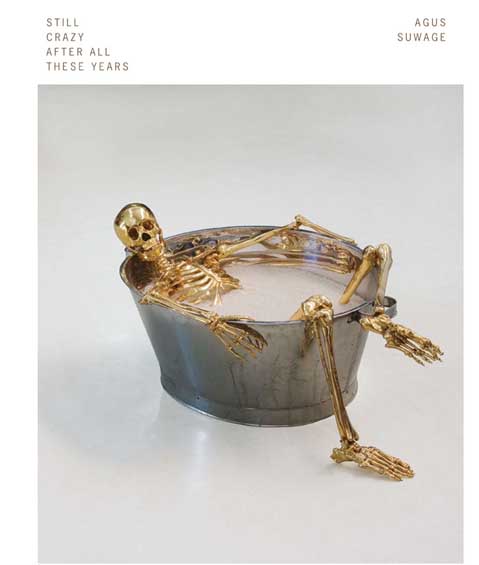 Book cover for Agus Suwage's monograph 'Still Crazy After All These Years'
Agus Suwage's retrospective last year was arguably one of the biggest, loudest and most bad ass event ever mounted for a single living and practicing contemporary artist in Indonesia. Following up on an exhibition of such scale is the recent launch of Agus Suwage's monograph. We speak to Adeline Ooi from RogueArt, who worked closely on the project, to find out how Agus's innovative practice and crazy antics have influenced contemporary practices across Indonesia.
ARTERI: The book is finally out! One year affer the phenomenal retrospective of the artist held in Jogjakarta and Bandung in 2009, what took so long?
1) Content
The idea for this book was conceived over two years ago and was meant to accompany the show (and the book's namesake)"Still Crazy After All These Years". While putting together the show was already something of a monumental feat, involving major renovation and improvements to exhibition venues and taking on major insurance policies to ensure the safety of works, the production of the book turned out to be the greater challenge that we had not foreseen at the time. The idea was straightforward: putting together 25 years of writing and works in one book. However the 'doing' part was not so easy. The gathering of information (visual and text) was probably the most time consuming of all as Suwage has been very prolific and his works are located in a vast number of collections –private and public– in Indonesia and beyond. Nevertheless the toughest challenge of this book lay in translating (and re-translating) from Bahasa Indonesia to English – a painstaking process as one had to be sensitive and faithful to the essence and tone of the writing. Also, a number of the original translations had to be reworked due to their poor quality, and these took longer than expected as the source material was also quite problematic to begin with. Not only that, syntax of Bahasa Indonesia and English are vastly differing in spirit and arrangement, so the process of translating and editing took much longer than expected.
2) Design and Production
The design and production aspects of this book required several rounds of trouble shooting and were equally time consuming. Weight was a main issue at hand.The book weighs in at around 700 pages, therefore it was necessary to identify the most suitable type of paper (ie. durable and light) in order for it to be reader-friendly and easy to transport. The paper chosen for this book is a particular type of Japanese newsprint with very unique characteristics. Not only did it require a special type of ink, the way the paper held the ink was also more sensitive. As a result, a number of rounds of proofing and re-calibrating had to be carried out prior to printing.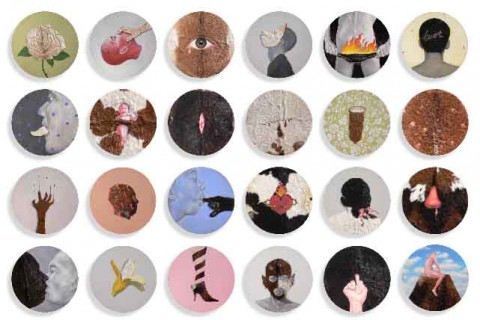 Moral Skin Fables, 2003, Oil, acrylic, goat leather mounted on board, Diameter 60 cm each, 24 pieces.
ARTERI: So what can we expect from this book?
A one-stop archive of Agus Suwage's 25 year career. He is aware that access to books and other printed documents is always tricky in this region, and there is always the tendency for things to go out of print. He felt that this book would help institutions, researchers, interested audience and students to access information about his work with relative ease, and in some ways, it is also for posterity, a legacy he wants to leave behind for his children. This book contains 20 previously published essays culled from out-of-print solo exhibition catalogues dating from as far back as the mid 1990s up until 2009 (ending with Suwage's recent STPI show) as well as a number of freshly commissioned writings from Indonesian literary figures such as Nirwan Ahmad Asuka, Puthut EA, ST Sunardi and our very own Karim Raslan. Also expect comprehensive colour plates of artworks and a full index of images of works documenting his journey from as far back as the 1980s.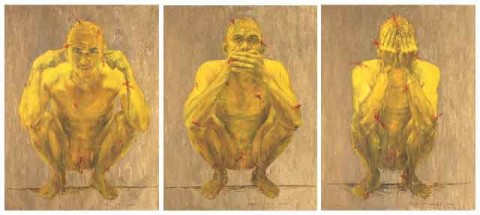 Super Simpanse, 2001, Oil on canvas, Triptych: 200 x 150 cm each
ARTERI: How can this book help us understand the meteoric rise of Agus Suwage as one of the most significant contemporary artists practicing in Indonesia today?
Suwage is one of the most consistent artists we know and it is easy to follow his development and subsequent rise to fame. The book is divided into 5 chapters and it charts the artist's journey in a chronological order. The book opens with an intimate reflection of Agus Suwage's personal biography and the context of his environment. Suwage the person may be an elusive being but his art is full of subversive humour and tensions. Prevalent themes in his exploration include his use of self-portraiture to comment on wide-ranging subject matter: from socio-political issues to the human condition (chapter 2: I See, I Hear, I Feel); his move away from self-portraiture and fascination with female performance artists (chapter 3: Self-potraitures: Post-Autoscopy); explorations into different media such as mixed media installations incorporating 3-d works and drawings, as well as special projects and commissions he has worked on in the past 25 years (chapter 5: By Invitation Only)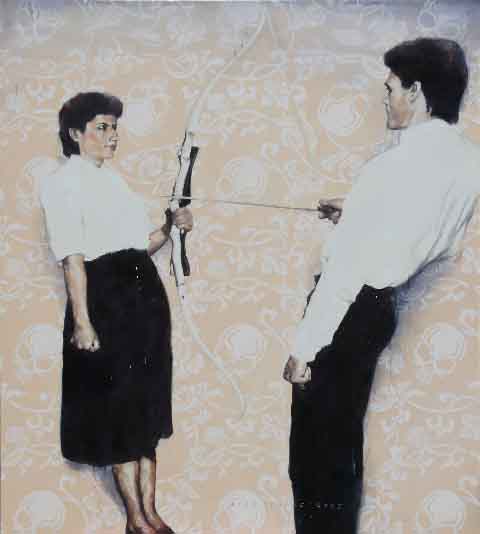 Rest Energy, 2007, Oil on canvas, 220 x 200 cm
ARTERI: Moving on to something more personal and subjective, we like to know what is your favourite work or series of work by Pak Agus? And why?
I believe Suwage's vast bodies of work have spoken to each of us differently as we continue to grow (older) with him. Definite Rogue favourites would include "Pause/Replay" (2005), the watercolour series capturing some of the most iconic scenes by female performance artists; "Blues For Allah" (2001); "Toys S Us" Series (2003) and his recent series of prints developed at STPI, "Full Circles"(2009), a protest against the pornography law, bill no. 44, which was directly related to his controversial work "Pink Swing", in collaboration with Davy Linggar at the CP Biennale in 2005.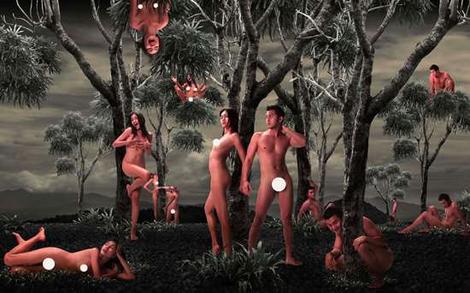 Agus Suwage and Davy Linggar, Pink Swing Park, 2005, Installation (Photo taken from here)
ARTERI: Is the art of Agus Suwage a good indication of where contemporary art in Indonesia is heading?
He has definitely set the bar for contemporary Indonesian art practice and his work has certainly put the one-hit wonders and copy cats of the boom years in their place through his wit, inventiveness and skill. It is a big shoe to fill as not many artists can maintain that balance of powerful content and meaning, local and international institutional acclaim, and strong commercial value.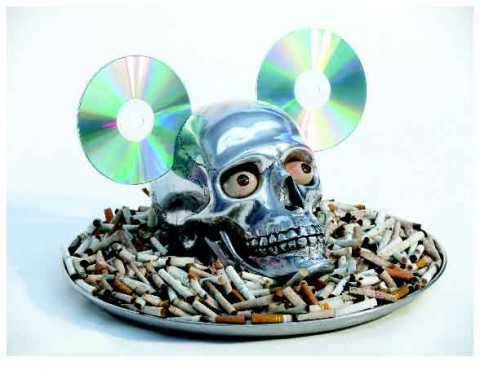 Nikotin Glamor, 2007, Aluminum stainless steel, resin, cigarette butts, used discs, 21 x 37 x 37 cm
ARTERI: There is a self-deprecating sense of the mythic in this project. Everything is done in such a monumental scale yet his works resist and pokes fun at this. How is this tension sustained and why is it important to narrate his art in such an epical scale?
Why not? I believe it is important to distinguish Agus Suwage the Artist and Agus Suwage the Man. His private life and his art are outright contradictions of one another. Agus Suwage the artist is the jester, the local hero and the rock star and yet the Agus Suwage the man is intensely private. "Still Crazy" may be intended to be the man's 50th birthday bash but it is the artist's work we celebrate as they are not only reflections of Indonesia's socio-political development but they also tell a compelling story about the human condition.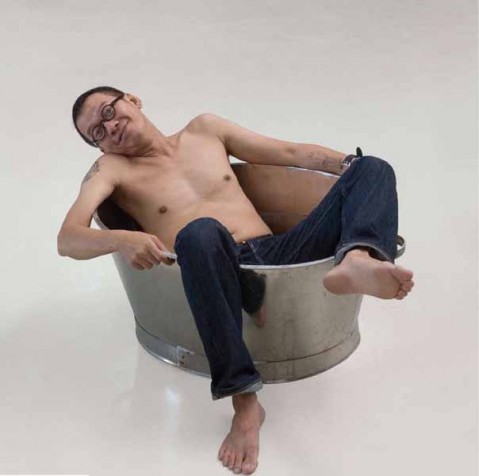 Portrait of artist on the back cover of 'Still Crazy After All These Years'
To purchase a copy of Agus Suwage's 'Still Crazy After All These Years', please contact RogueArt at contact AT rogueart DOT asia
~
All images courtesy of Studio Biru, Jogjakarta except where credited.
(SS)