New Wave
Dear Readers: ARTERI is always happy to support new writers who want to contribute for us. We recently were contact by Nik Azri-Azmi a student at UiTIM who wanted to share his thoughts on a recent exhibition filled with young upcoming Malaysian artists. Keep it coming and remember everyone is welcome to contribute to our site! Thanks (Eds)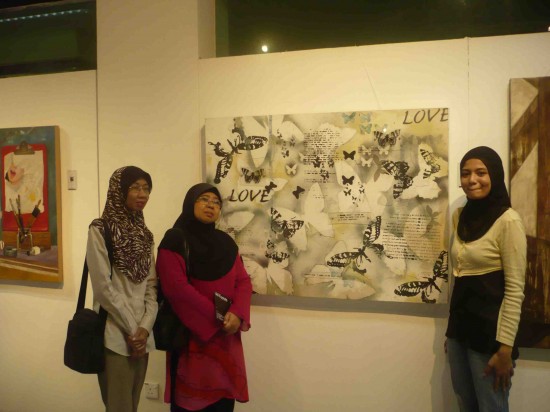 Work by Izzah Syazwina
Malaysian young contemporary artists are getting more and more opportunities to showcase their talent. Various art galleries and spaces are opening their doors to fresh faces who are trying to carve their names in the Malaysian art scene. One wonders how many of them have what it takes to become an artist in the scene which is growing bigger than ever. Will they sustain the challenge of becoming an artist, or will they fumble in the beginning? I talked to three young artists who recently showcased their artworks at Art Village for a show titled Disclosure. The three artists include Tafbrani Ayub, Suffian Abdullah and Izzah Syazwina.
Interestingly, all three are still learning their trade to become an artists as they are undertaking a Fine Art course at UiTM. They are scheduled to graduate by end of this year. The word raw comes into mind when speaking to these three lads. If nurtured onto the right path, there is a big possibility that they can make it big in the art scene, but only if they have the mentality to do it right. The show that they were involved in was actually an open show, where young artists all around Malaysia had to compete for a spot in the show itself. Being unique in their own way, these three artists managed to break into the show.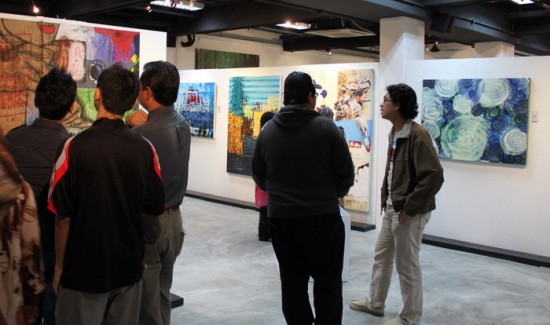 The concepts of artworks by the three emerging artists differ from one another. Tafbrani creates sculpture that re-creates the essence of fossils. He uses the form elements of fossils and makes it into another form that resembles the fossil itself. The textures that he creates are also based on fossils that I find very interesting. This differs from the concept of artworks created by Suffian. Suffian's view of creating an artwork is based on his experience as a socialist. In his paintings, Suffian raises the issue of bribery. He studied the issue thoroughly and records it into his painting. The reason that he does this kind of artwork is not to solve the issue, but to actually condemn the people involved in it and try to make them realize their wrong doings. This is very different from the idea of creating an artwork by Izzah Syazwina. What she creates in her paintings is based on her feelings. She uses art, painting specifically, as a medium of expression. In her paintings, Izzah expresses her feelings of love, especially towards nature that she depicts by using the image of butterflies.
To become an artist, these three artists had to first face stiff competition from others to earn a spot in the show. It was also a challenge for these three, as it was their first group exhibition outside of UiTM. When asked, all three agreed that the true challenge of participating in an art show was actually to grab people's attention to take notice of their artwork. It is a challenge for them to become different, and probably better from others. This is where the learning process took place for them, to gain the experience and become sustainable in the art scene.
From what I figured, going through these challenges are normal for someone wanting to become a successful artist. They should learn from the experience and try to grow better and better. From the talk that I had with them, I can see that they've actually learned something that might benefit them very well. The communication skills that they showed were very good. Not many artists can talk the way that they did, with full confidence and showing determination to succeed in the art scene. Some of phrases that really interest me about them were such as these:
"Buat artwork ni bukan untuk jual, kita kena buat artwork dengan ikhlas." – Suffian Abdullah
(very sincere indeed, creating artwork for the love of making it)
"Seronok jugak dapat buat show dekat luar, buat show dekat luar takdela stress macam orang selalu cakap" – Tafbrani Ayub
(full of confidence I might say. It is after all, a joy to have your artwork showcased to the public)
"Saya buat artwork sebagai eksperesi diri saya. Saya tidak buat artwork untuk hanya memuaskan hati orang lain."
(Another statement that defends, creating an artwork for the love of it!)
These three showed real character, unique in their very own way. All they did was be themselves, and not try to be a person that they're not just to make other people happy. These are the strengths of young artists. They are who they are. They're not pretending. To show a great deal of confidence is important to become a successful artist. Young Malaysian artists are showing that character (even though not all them are showing it =P). But these three showed a great deal of confidence. Let's just hope that more young artists are emerging in the scene and make it a different and interesting scene altogether. New bloods are fresh indeed, and they are the NEW WAVE, trying to create havoc in the art scene.
~
All images courtesy of the author.
Nik Azrin-Azmi is a full time Fine Arts student in UiTM majoring in sculpture. His involvement in arts is still new, only having to know about art for three years now. His interests in arts are mostly towards written materials such as books about art. He's trying to be a more matured writer and contributing articles to art magazines as a learning process. Even though he is also from UiTM, there is no sense of biasness in writing this article. =)