We Are Art, Art.We.Ar
I've been costuming for nearly 20 years now. It may seem like a long time, but I feel that I'm only at the beginning of my "tour of duty". I've always been looking for meaning behind what I have been doing. Costuming is a really neat hobby where you can meet all sorts of people and exchange ideas or ogle over their excellent costumes. Over the years, more and more youngsters have been involved in a form of costuming known as cosplay. Cosplay comes from the words costume and roleplay. It supposedly originated in Japan a couple of decades ago when fans of a particular anime or Japanese animation dressed up as their favorite characters and went public.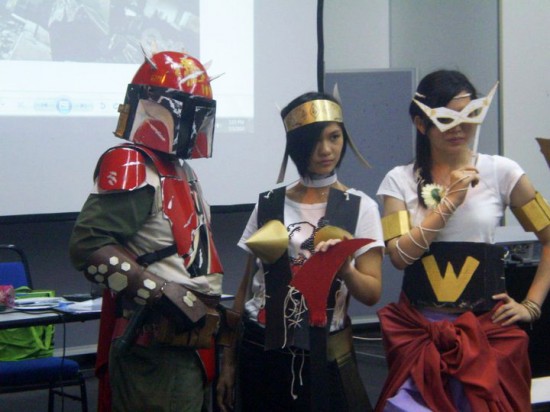 Results of an artwear workshop with students of The One Academy, Penang.
Coming from Japan, it was natural that cosplay consisted mainly of Japanese characters. However, nowadays, cosplay has expanded beyond Japanese anime and manga (comics) characters into western movie and comic characters. Cosplay also includes characters from video games and Japanese pop/rock band personae. Some people are beginning to accept original character cosplays as well. Original characters mean that these characters were designed and created by the cosplayer and do not necessarily have ties to an existing character or fictional universe. Even though original/custom characters are being accepted, they are still not accepted in competitions.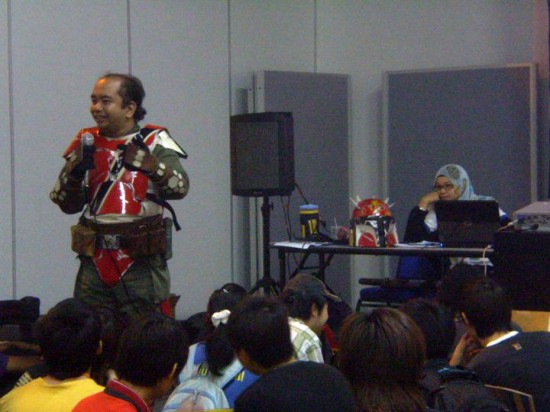 Red Hanif explaining artwear to students.
Most of my creations are either inspired by an existing character, or are totally new ideas of my own. I did not make these costumes to take part in cosplay competitions. They were experiments in self-expression. Many of them are based on existing characters, but were customized to convey a statement, a message. I see them as my artwork, and each suit has a meaning that can be interpreted by those who observe.
I had a discussion with a couple of students who were having their practical training at the Tuanku Fauziah Museum & Gallery (MGTF) at Universiti Sains Malaysia, and we came up with the term Kinetic Interactive Sculptures or KISs. I ran the term on the internet and it seemed that the closest thing to it was interactive kinetic sculpture, which was a wholly different form of art.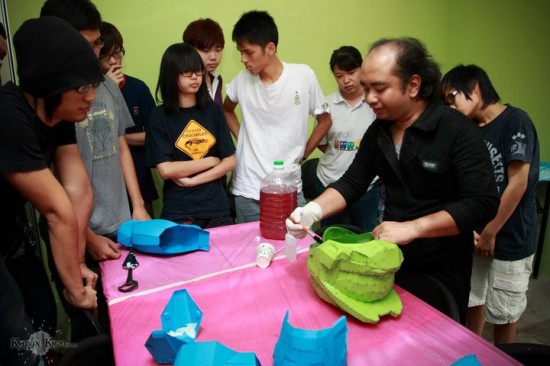 Photo by Kalvin Khoo
Based on this, I went to Associate Professor Hasnul Jamal Saidon, the director of MGTF. He is also the progenitor of New Media art in Malaysia. I explained to him that my suits were not made for competitions or just to attend conventions. I wanted them to have a deeper meaning. He suggested several new terms such as wearable sculpture, artwear and finally came up with the term art.we.ar. This is to suggest that we embody art, he said.
A couple of days after that, we had a meeting and he suggested that I add two new elements to my artwear; photography and video art. Everything seemed to click together just then. My friend Matrika is an ardent photographer and has done quite a few shoots of my artwear. I had even suggested to her that we do a joint exhibition where I display my artwear and she shows off her photography. The second part, video art, will be done by Nursiti Zaleha, my new apprentice. We were discussing the possibilities of merging artwear and video art when Hasnul suggested the addition of the new elements.
At the same time, I was offered the chance to promote artwear on two different occasions. The first was during an activity at the Sekolah Menengah Kebangsaan Sungai Nibong, where we were given the chance to display and troop in artwear. This activity was recorded by photo and video, and will become artworks for both Matrika and Siti. The second opportunity was at The One Academy Penang, where I was asked to present a workshop on artwear. For the second activity, students were asked to design and make costumes (or artwear) that reflect society from certain historical eras. They managed to come up with 10 artwear, each with its own identity. The students took some time to get used to the idea of artwear, but fortunately some of them are familiar with cosplay.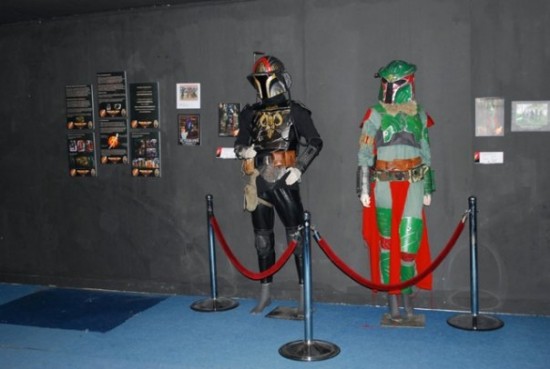 Red Hanif's solo costume exhibition 'Resurrection III: Rise of the Mandalorians' at Muzium & Galeri Tuanku Fauziah, USM (2009)
It looks like artwear has had a good start. It may not have much commercial value, but as an art form, it is certainly very expressive and gives the artist a unique experience that is not available through other forms of art. I hope to further promote this new art form and share it with the world.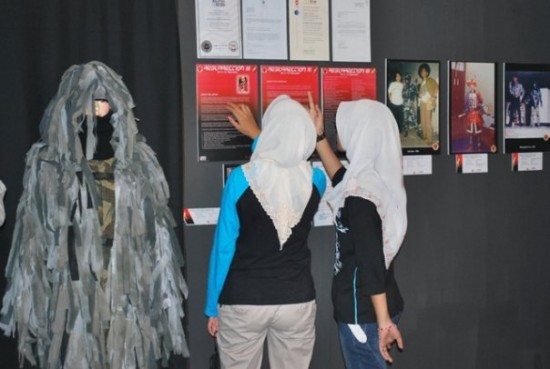 All photos courtesy of Red Hanif unless otherwise noted.
~
M.Hanif was born in Kedah. He holds a degree in Applied Sciences (Aquatic Biology), specializing in Hard Coral Taxonomy and a Diploma in Education (Science). He was a science teacher for 3 years before returning to his true passion: costuming. M.Hanif – or Red as he is often known – built his first armored costume out of poster board in 1991. Since then, he had designed and built dozens of other costumes, both for himself and others. His props and costumes have made their way across the globe to the US, Canada and Europe. He is the founder and director of MandoArts Studios, through which his props and costumes are made available to the public. MandoArts Studios also provides costumed character appearances for public and private functions. He is also a founding member and current Clan Leader of the Malaysian Chapter of the Mandalorian Mercs, a Lucasfilm Ltd approved Star Wars costuming club.